Can China realise its One Belt, One Road dream?
Jun 06, 2016 12:53 AM IST
Beijing is marshalling a lot of resources for the ambitious project, but serious doubts remain about its viability
China's 'One Belt, One Road' (OBOR), which was first proposed in September 2013, and combines the twin initiatives of the Silk Road Economic Belt and 21st Century Maritime Silk Road, is a grand concept that envisions China girdling the globe. Essentially, it is a plan for a China-built land and sea transportation artery to link production centres in China with markets and natural resource centres around the world. At the same time it will harness China's massive, but hitherto idle, economic, manpower and technological reserves and get much-needed returns on investment. The initiative blends geopolitical and diplomatic objectives and has a strong domestic agenda. The latter was highlighted when an official of China's Ministry of Commerce told Caijing magazine in May 2014 that the "new 30 years" will put today's China on the threshold of a third era comparable to those begun by Mao Zedong and Deng Xiaoping.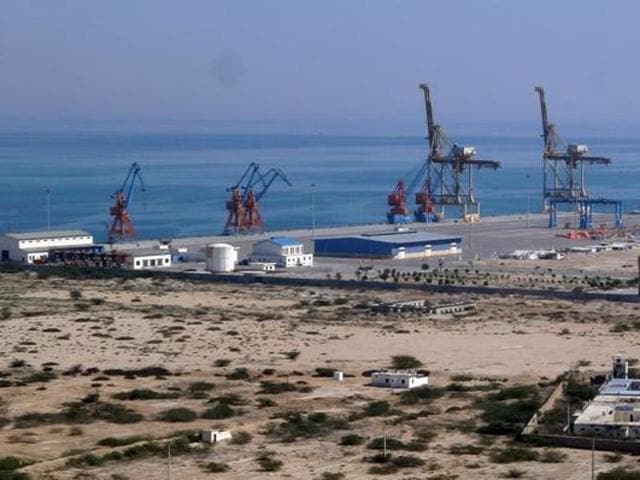 Read | From China to Pakistan: A well-thought-out 3,000km lifeline
The approximately $1.4 trillion project potentially covers 55% of the world GNP, 70% of the global population, and 75% of the earth's known energy reserves. China also claims to be willing to make a huge financial commitment in infrastructure financing and, though some multilateral and bilateral pledges may overlap, it is still estimated to exceed US $300 billion. The initiative has the potential to bend borders and alter geostrategic dynamics and the status quo in China's extended neighbourhood. Its completion is planned to coincide with the 100th anniversary of the People's Republic of China in 2049.
Read | Sino-Pak corridor through PoK in focus during Gen Sharif's China visit
The OBOR's most publicised segment is the China-Pakistan Economic Corridor (CPEC), which directly impacts India and was announced by President Xi Jinping in Islamabad in April 2015 and is valued by Pakistani analysts at $46 billion. Another section was operationalised in May 2015 when Xi committed $15.7 billion in Belarus and concluded other agreements during visits to Kazakhstan and Russia. The CPEC is an example of the diplomatic and military support that China plans for OBOR. With the CPEC, Beijing overtly supported Pakistan's territorial claims and dispelled the ambiguity it had maintained for over six decades on the issue of Jammu and Kashmir. The recent restructuring of the People's Liberation Army (PLA) similarly anticipated the need to protect China's overseas assets and the PLA's new West Zone's tasks will include safeguarding Chinese investments and projects abroad, including the CPEC. China has additionally indicated it is establishing a Division-strength "private army" for deployment in the CPEC.
The Bangladesh-China-India-Myanmar (BCIM) corridor is also part of OBOR and Beijing is pressuring India to sign on to this too. Opening the BCIM would, however, mean that Chinese goods will flood India's northeast where poor connectivity presently makes access difficult for Indian products and people. There is the additional risk of thousands of Chinese illegally settling in India's sparsely populated north-eastern states, as they have in other countries.
Read | India must join China's Silk Route initiative
The disbursal of large sums as loans and aid for countries participating in OBOR will enhance China's economic influence and the financial power it exercises through trading relationships. International financial institutions like the Asian Infrastructure Investment Bank (AIIB), BRICS' New Development Bank, Silk Road Fund, a Chinese Investment Corporation-backed fund, and a SCO Development Bank, are getting involved with OBOR. Private investors and lenders have expressed interest and at least 20 European countries are in talks with China.
Meanwhile, China's cash-rich State-owned Enterprises (SoEs) are ready to participate. Official Chinese reports disclose that more than 80 SoEs had established branches in countries and regions participating in OBOR by the end of 2014 and over 30 had overseas legal risk prevention plans. Separately, on March 14, 2016, China's State Administration of Taxation announced that tax treaties with countries along the "Belt and Road" will save financial institutions in China almost $1.5 billion in taxes.
Read | India should consider the right road for Asian economies
Major difficulties, however, confront OBOR. Jia Qingguo, member of the CPPCC Standing Committee and Dean of the University of International relations at Beijing University, sounded a note of caution in March 2015 and pointed to the problems of harsh terrain, political instability, and geopolitical threats. Saying Russia is wary of China's rise, he cautioned China against appearing to challenge Russia's position in Central Asia. Other Chinese academics and strategic analysts have observed that India, US, Russia, and Japan are all important players in OBOR countries and the region and could block China's plans. Among the major security challenges for China will be: protection of 81,000 kilometres of high-speed railway that China proposes to build through 65 countries; inclusion in OBOR of the Central Asian Republics and Turkey which will help Islamic extremist groups to assist Uyghurs in Xinjiang; and safeguarding the CPEC's 51 projects in Baluchistan — among the world's most vulnerable and domestic insurgency-ridden territories. These cast serious doubts about the viability of the OBOR.
Jayadeva Ranade is president of the Centre for China Analysis and Strategy
The views expressed are personal
"Exciting news! Hindustan Times is now on WhatsApp Channels
Subscribe today by clicking the link and stay updated with the latest news!"
Click here!