Can Rajnikanth fill the political vacuum in Tamil Nadu?
May 29, 2017 08:01 PM IST
If anybody can form an actor-politician triumvirate in Tamil Nadu with MGR and Jayalalithaa, it could be Shivaji Rao Gaikwad a.k.a.Rajinikanth
This could be the moment. The prospect that Rajinikanth has been toying with for a long time now. His reticence in taking the long-sought-for political plunge is consistent with his low-profile real-life persona, but could also be interpreted as a sign of his prudence.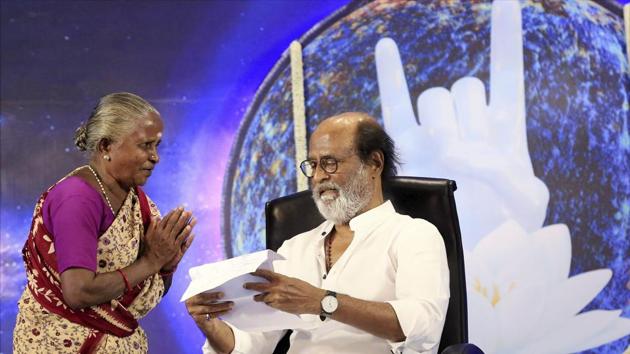 Rajinikanth has been consistent that he does not see himself as a "political leader or statesman''. Nevertheless, speculation about his imminent entry into the political arena has cropped up with uncanny regularity. Sceptics have claimed that such speculations reach a crescendo just before the release of his movies. That would be too simplistic an assessment.
Stay tuned with breaking news on HT Channel on Facebook.
Join Now
The real cause for rumour mills to grind animatedly is not only because the enigmatic megastar seems to relish keeping the media guessing about his political plans, but also that his own actions have had political undertones. His contact with Prime Minister Narasimha Rao in the mid-1990s to help the Congress in the elections did not lead to much, except that the party was left further weakened in Tamil Nadu after it suffered a split. The GK Moopanar faction walked out of the Congress to form the Tamil Manila Congress (TMC). The TMC got the tacit support of Rajinikanth's extensive fan club network but the support was not enough to catapult it to power. Megastar Rajinikanth did note that, and stayed away from explicitly supporting other parties after that.
Rajinikanth, given that he is from Bengaluru, has been compelled to weigh in when tensions between Karnataka and Tamil Nadu have come to a head over the Cauvery river water sharing dispute. He has even tried to build a political consensus over the inter-linking of the rivers across the country, another of his projects that has not found much traction — a reflection of his lack of political sagacity.
The other piece of the Rajinikanth's political "will he, won't he," puzzle is his supposed antipathy towards the late Tamil Nadu Chief Minister, J Jayalalithaa. Whatever the circumstances and the speculation around the neighbours falling out, Rajinikanth chose not to confront her politically in a one-on-one confrontation, and with her death, never can. Rajnikanth's political prospects seems the brightest now, thanks to the huge political vacuum created by the demise of Jayalalithaa and the near-retirement of the DMK patriarch M Karunanidhi. Or do they?
So when a Marathi-speaking Kannadiga from Tamil Nadu considers a political career in his adopted state, what are the factors he would have to weigh? Of course he is hugely popular. Would that translate into votes? MG Ramachandran and J Jayalalithaa as actors-turned-politicians and who even has strong roots outside the state have etched their names in the Tamil political firmament. If anybody can form a triumvirate with MGR and Jaya, it could be Shivaji Rao Gaikwad a.k.a.Rajinikanth. For that, his fan clubs should have been deployed as a part of larger strategy to build his political career, quite like how MGR's fan clubs acted as the bulwark of his political game plan, which helped Jayalalithaa too.
MGR had his political career firmly ensconced in the Dravidian movement. Jayalalithaa stayed true to it merely in name and oversaw the erosion of Dravidian "values". Though the Dravidian movement is rooted in atheism, Jaylalithaa was clearly religious and publicly gave money to temples. Rajinikanth has not got the political pedigree or the ideology, instead he has hobnobbed with the Congress initially and more recently with the BJP.
Caste politics is a reality despite the Dravidian movement's sway over the politics of Tamil Nadu over the past few decades. Violence against Dalits is an everyday reality. Will Rajinikanth overcome the political faultlines? For that the people of Tamil Nadu should feel the State has reached a political cul de sac and think only Rajinikanth can save it. If not, the mega star will give some political space for a non-existent BJP to make some inroads into the State and nothing else.