Drainage networks, not roads, are arteries of the city
Sep 08, 2016 08:29 AM IST
The maintenance of the drainage networks is critical for avoiding repeated floods but they are also a solution to another major problem faced by Indian cities – the lack of walking and cycling paths.
The monsoon rains have been a relief after two years of drought. However, they have also revealed that almost all Indian cities lack drainage networks. Even a modest shower will flood our roads, homes and markets, and will bring our cities to a standstill. Neglected drainage networks is not merely about the inconvenience caused by traffic jams, but is closely linked to many aspects of urban management — the spread of diseases like chikungunya and dengue and even the efficiency of public transport systems.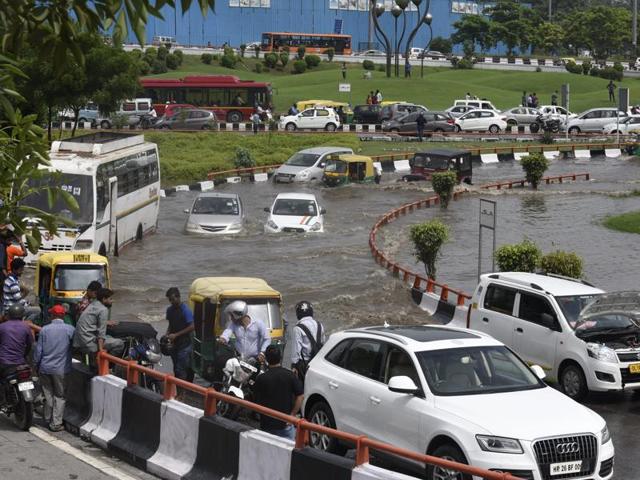 Ironically, the Delhi-NCR region has inherited a very extensive network of drains and canals, "nullahs". Architect Manit Rastogi has spent years mapping them and estimates that the network consists of 350 km of major and minor nullahs. Some these are natural contours but many were built as irrigation canals by medieval dynasties like the Tughlaqs. Some arterial nullahs are substantial stretches of real estate, in places 30-40m wide. Once you notice them, you will see them everywhere — behind the prime minister's home along Race Course Road, past Defense Colony, through Delhi Cantonment and so on.
Stay tuned with breaking news on HT Channel on Facebook.
Join Now
Read | As rains spell trouble, Delhi gets caught in road agencies' blame game
Unfortunately, the network suffers from complete neglect. In many places it has become a smelly sewer, in others it has been overrun by squatters. Since no one cares for them, they are easily hijacked for other purposes like car parks and roads. Municipal authorities claim that drains continue to flow under the new construction but they are difficult to clean and get quickly clogged with garbage. It is not surprising, therefore, that even a moderate shower floods the roads.
A similar story can be told of other Indian cities: The traditional water tanks of Bengaluru, Mithi river in Mumbai, the Adyar catchment in Chennai. The Noyyal is marked as a perennial river in 19th century maps of Coimbatore but is now a sewer. Varanasi derives its name from two streams — Varuna and Asi. The former is still a discernible river but Asi is now a municipal drain. Many locals who live along its banks were surprised when I pointed out its course.
Read | Why Kolkata sank in just three hours of rain
The maintenance of the drainage networks is critical for avoiding repeated floods but they are also a solution to another major problem faced by Indian cities – the lack of walking and cycling paths. A critical flaw in public transport systems across India is first/last mile connectivity. In all other countries, this is usually walked but in India one is forced to haggle with a rickshaw even for a short distance.
A nullah network, by its nature, is made of long stretches of land. In fact, for historical reasons, the nullahs usually run close to the oldest and densest neighborhoods and are often the only open space cutting through the landscape. Rather than covering them up, walking paths should be build along the open nullahs. This would have the additional benefit of increasing public pressure to keeping the nullahs clean as people would be walking along them. Rastogi estimates that Delhi can have a first class walking/cycling network and a workable drainage network for a fraction of the money being currently spent on large, centralised sewage treatment plants.
Read | Bihar flood toll rises to 205, Ganga receding at most places
The dual use of water networks as walking paths is not uncommon across the world. Many Western cities use paths along water-bodies as walkways and several Asian cities have adopted this model in recent years.
Till the 1970s, Singapore river was a foul smelling stream that took in industrial discharge as well as waste from hawkers and squatters. In 1977, Prime Minister Lee Kuan Yew put a target that it would be possible to eat fish from the river in 10 years time. Over the next few years, thousands of hawkers and squatters were relocated while industrial discharge was diverted to sewage treatment plants. By 1984, the river was clean enough for the government to organise a "mass-swim" that included senior government officials. Today, the old riverside warehouses of Boat Quay and Clarke Quay are among the most visited tourist sites in Asia.
Read | One person every second displaced by natural disaster since 2008
Cheonggyecheon stream in Seoul is another example of watershed restoration as urban renewal strategy. In the 1950s, the stream had become a smelly drain carrying industrial and household sewage. An elevated highway was build over it in 1968. However, in 2003, the local mayor decided to pull down the highway and restore 7 km of the stream. The stretch is now the centerpiece of the city and 80,000 people use it everyday.
In an automobile obsessed age, we think of roads as the arteries of the city, but it is really drainage networks that should play this part. They are not merely to ensure that roads do not get flooded after a downpour but are an organic part of the city as green lungs, water-table recharge, public transport, waste management, and spaces for leisure. Other Asian cities have come to recognise this in recent years and it is time we did too.
Sanjeev Sanyal is the author of The Ocean of Churn: How the Indian Ocean shaped Human History.
The views expressed are personal.