Modi's foreign policy misses in the neighbourhood
Jun 06, 2016 08:24 PM IST
The road for carrying forward the 'neighbourhood initiative' lies through serious policy homework that must include redefining diplomatic tools and practices, as well as restraining party constituencies from constraining policy priorities
Print Intro: The real challenge of India's neighbourhood policy has always been in dealing with China and Pakistan. Both these relationships look as confused, uncertain and daunting as ever, writes SD Muni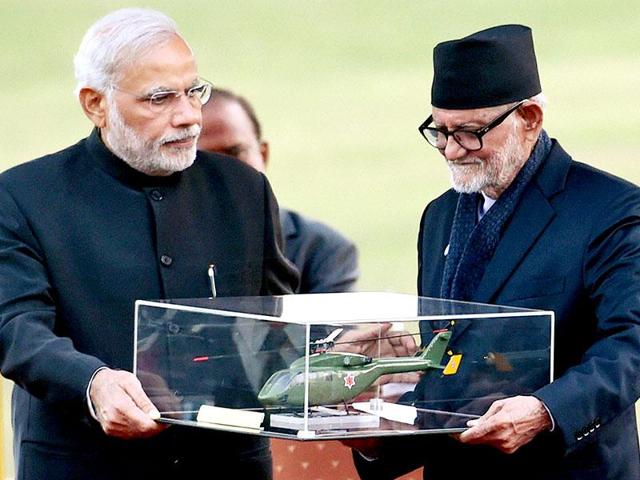 Prime Minister Narendra Modi's out-of-the-box foreign policy initiative of 'neighbourhood first' seems to have run into troubled waters within two years of its execution. There have been many successes when it comes to foreign policy in general but when it comes to the neighbourhood, the expectations aroused by the initiative and the energy invested in driving it have faded somewhat.
The real challenge of India's neighbourhood policy has always been in dealing with China and Pakistan. Both these relationships look as confused, uncertain and daunting as ever. China being in a category beyond immediate neighbours was not a part of Modi's initiative, but on Pakistan, in some ways, former PM Manmohan Singh may well have a better record. He, through backchannel parleys with then Pakistan President Pervez Musharraf, brought the Kashmir issue closer to a resolution.
In the case of Nepal, India stands largely alienated; from the hill people due to the cold and undiplomatic response to the new constitution followed by the coercive diplomacy of undeclared but calibrated trade blockade; and from the Madhesi and Janjati groups by half-hearted support to their cause. India's sympathies in the Maldives oscillate between ousted President Mohamed Nasheed and the new regime led by President Abdulla Yameen Abdul Gayoom.
Read | President Pranab's China challenge: Scaling the great wall of Pakistan
Relationships with Bhutan, Afghanistan, Bangladesh, and Sri Lanka are generally friction-free but without any significant improvement, except for the change of regime in Sri Lanka and the ratification of the Land Boundary Agreement with Bangladesh.
The Saarc remains a slow and uninspiring instrument of regional integration. Efforts to activate sub-regional mechanisms to enhance connectivity are being made, but results have been less than encouraging so far. An area of growing concern for India in all the neighbouring countries is their willingness to help China consolidate its fast-expanding economic and strategic presence.
It would be unfair to blame any lack of sincerity or effort on the part of Modi and his team in pursuance of the neighbourhood initiative. He travelled to these countries, including a surprise visit to Lahore, talked to them at various levels, and assured them of his commitment to their developmental aspirations. In neighbouring countries many of the pending and stalled Indian projects are being activated. When the neighbours were in distress, India was the first to reach out to them. Recall the support for Nepal when hit by an earthquake and for the Maldives in meeting the drinking water crisis. Also security ties have been sought to be expanded and revamped.
Read | Nepal: Indian embassy official's meeting with Madhesis creates furore
In spite of these efforts, the policy slipped in three critical areas. When launched, the initiative lacked adequate preparation and a credible roadmap. The visit of all the South Asian leaders at Modi's swearing-in was hurriedly prepared by the ministry of external affairs. The heads of missions in neighbouring countries were called in August 2014 to prepare a '3-C mantra of commerce, culture and connectivity'. But the diplomacy employed in pursuing this mantra was did not work to a plan. The Hurriyat redline for talks with Pakistan, undiplomatic and coercive moves on Nepal's constitution and the postponement of Modi's visit to the Maldives are just a few examples.
Then there has been a disconnect in the cultural approach with the ruling party's civilisational agenda. The parallel moves from the ruling party's interested constituencies to push for a Hindu State and monarchy's revival have sent confusing signals as to what India wants in Nepal. The communal debate within India that often drags Pakistan in, in moves like stopping of cattle export to Bangladesh to save cows, grant of citizenships to migrant Hindus from Muslim neighbours and an emphasis on Hindu and Buddhist identities are also alienating moderates in neighbouring Muslim countries.
Lastly, despite their best efforts, Modi and his mandarins have not been able to bridge India's chronic foreign policy delivery deficit. Promises made have remained undelivered, the completion dates of Indian projects have been postponed and the lack of effective coordination between various ministries, as also between the Centre and the states bordering the neighbouring countries like Bangladesh, Nepal and Sri Lanka, continue to come in the way of building good neighbourly ties. An early resolution of the Teesta issue with Bangladesh or the fishermen's issue with Sri Lanka does not appear to be in sight.
Read | PM Modi discusses fishermen issue with Sri Lankan President Sirisena
There are two other challenges that the Modi government's neighbourhood policy has not been able to cope with yet. One is of internal political turbulence within each of the neighbouring countries where India is perceived as an inevitable divisive factor. New Delhi has not always been able to properly assess as to how close the neighbours wish to be to India in view of their identity and structural dependence dilemmas. This is reflected in the lack of a proper response to many of India's initiatives to connect with them. The second is of China's aggressive push into South Asia with its economic and strategic compulsions. This push is backed by China's generous economic and strategic support offered either through their One Belt, One Road Initiative or through the promise of standing for the "sovereignty, territorial integrity and independence" of the South Asian countries against un-named external pressures. All most all of India's neighbours are happy to work with China for its economic incentives and political promise.
The road for carrying forward the 'neighbourhood initiative' lies through serious policy homework that must include redefining diplomatic tools and practices, as well as restraining party constituencies from constraining policy priorities. India must position itself on internal political turbulence in a manner that its vital interests are not harmed. Then it must also come up with a credible response to the Chinese push in the region.
SD Muni is professor emeritus, Jawaharlal Nehru University
The views expressed are personal