Violence is a neglected aspect of debates on child labour
Jun 13, 2016 08:19 PM IST
Child labour is indeed the biggest violence a country can inflict on its citizens of tomorrow
"I was branded with a red-hot iron on my thigh once by the factory owner. The pain was unbearable," says Ajith Kumar, 12, from Vellore. Mohsin, eight, from Meerut says: "I would carry piles of books all day in a book-binding unit, my hands are hurting terribly."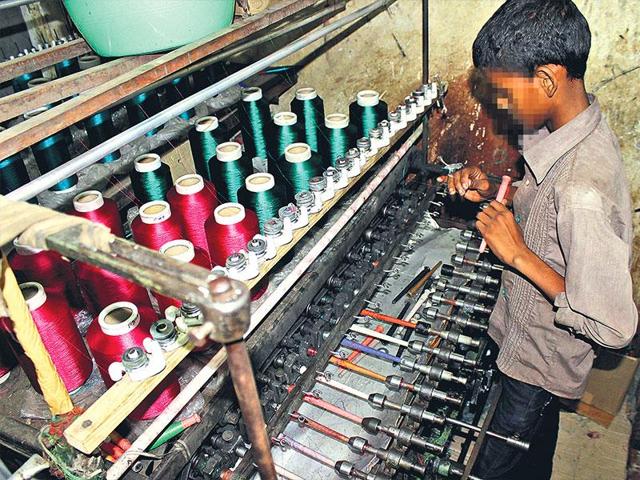 Ajith and Mohsin — two among India's 22 million under-18 workforce — merit some thought today. Though June 12 was World Day against Child Labour, child labour is treated as something of the past and the term does not evoke much anxiety and consternation. Some troubling questions are asked: What is the harm in letting children work after their school hours? Does it not help break the cycle of poverty? Does it not boost their vocational capacities? These questions ignore one grave dimension of child labour — the violence contained in it. An independent expert's study commissioned by the United Nations led to the World Report on Violence against Children, which acknowledged the fact that "of all the settings where children are exposed to violence, the workplace is among the most difficult to address. Violence is a neglected aspect of debates on child labour". Exposure to violence causes strong susceptibility to lifelong social, emotional, and cognitive impairments.
Read | 'Child labourers need the right push to change their lives'
The little data available sufficiently reveal the extent of workplace violence. Though engaging children in domestic work is banned in India, there are 185,595 domestic workers below the age of 14. An investigative study conducted by an NGO in Kerala, Tamil Nadu, Andhra Pradesh, Meghalaya and Nagaland said 35% of child domestic workers said they faced physical punishment, or financial hardship, or sexual abuse.
The national-level study on child abuse, conducted by the ministry of women and child development in 2007, covered 12,447 children, of whom 2,477 (19.9%) were in the category of 'children at work'. More than half of them worked seven days a week. Among different groups studied, the highest percentage of children who faced sexual abuse was those at work (61.61%).
Read | India leads world in 'slavery'
Where does this leave our children? The proposed amendment to the Child Labour (Prohibition and Regulation) Act talks about prohibiting the employment of children below 14 except in family enterprises and entertainment, and work regulation for the age group 14-18. Until a blanket ban on all forms of child labour below 18 is in place, regulation efforts will need to enforce violence prevention. For protecting children from child labour and subsequent violence, functional District Child Protection Units need to be present. Unless working children begin going to school regularly, rehabilitation will be incomplete, and this calls for a more effective implementation of the Right to Education Act. Initiatives like Karnataka's Gram Sabhas for Children could be a model to follow; they facilitate children's participation in highlighting issues that affect them.
Child labour is indeed the biggest violence a country can inflict on its citizens of tomorrow.
Read | Prostitution to child marriage: India's drought hurts women, Dalits more
Joseph Wesley handles Child Protection at World Vision India
The views expressed are personal
"Exciting news! Hindustan Times is now on WhatsApp Channels
Subscribe today by clicking the link and stay updated with the latest news!"
Click here!