What does the UP assembly verdict mean for Muslim political representation?
Mar 15, 2022 04:59 PM IST
The polls saw a polarised verdict, with 83% of Muslim voters picking the SP. Here are the trends in party nomination and representation of Muslims to understand voter behaviour
The Uttar Pradesh election threw a polarised verdict. According to the Axis-My India exit poll survey, 83% of Muslim voters cast their ballot for the Samajwadi Party (SP), a degree of cohesiveness never achieved since we have measures of group-based voting. As a result, Muslims' representation in the assembly has gone up from 24 to 34 Members of Legislative Assembly (MLAs), all elected on SP alliance tickets.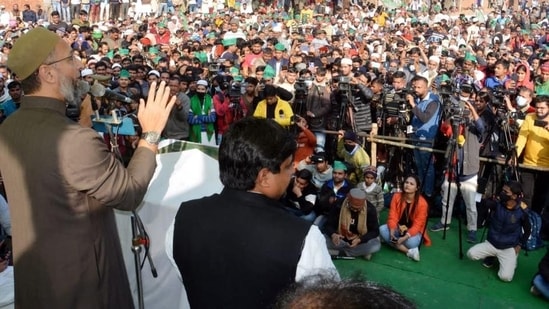 How do we interpret this outcome and what does this mean for Muslims' politics in Uttar Pradesh? In this article, we look at trends in party nomination and representation of Muslims to gain some insights.
Muslims' representation is not just a matter of tickets
The first chart shows that Muslims' representation in Uttar Pradesh has considerably varied over time even though the overall percentage of Muslim candidates has remained stable. There were 12% of Muslim candidates in 2022, against 10.6% in 2017. Understandably, Muslims tend to run in larger numbers in seats where their demography is larger. Given the state of communalisation in Uttar Pradesh's society, parties have no incentive to give too many tickets to Muslims in seats with a low Muslim population.
If one looks at major parties, we find that the SP, the Bahujan Samaj Party (BSP) and the Congress together have increased the number of tickets given to Muslim candidates over the past two elections. In 2022, the BSP gave 16% of its tickets to Muslim candidates, against 13% for the SP and 10% for the Congress.
But tickets are not all. From 1993 onwards, Muslim representation steadily increased, partly as an effect of the rise of regional parties, but also due to the fact that Muslims' votes became more cohesive over time at the constituency level, thus avoiding split voting. Split voting happens when voters distribute their votes between two or more Muslim candidates in a way that lets a third-party candidate win, generally non-Muslim. In 2022, we find that Muslims may have "lost" 14 seats to split voting, essentially in Rohilkhand. In 2017, split voting took place in at least 23 seats with a high Muslim population.
The consolidation of votes behind the SP and its allies accounts for the lower split voting. The BSP's Muslim candidates received on average a lower vote share than their non-Muslim candidates (11.8% against 13.5%). Some 15 former BSP legislators fought on other parties' tickets in 2022. Only four were elected, three on the SP tickets and one on an Rashtriya Lok Dal (RLD) ticket.
Past numbers show that Muslims' representation benefits from the presence of at least two large parties that include them. Muslims' representation this year has increased to its level in 1993. This is far from 2012, when Muslims' representation became nearly proportionate to their demography.
AIMIM's limited yet meaningful impact
Contrary to speculations, the AIMIM did not have much impact in purely electoral terms. It fielded 95 candidates, including 73 Muslims. They scored on average 2% vote share, insufficient to make any mark. Some of their candidates did, however, perform. In Mubarakpur, Shah Alam, alias Guddu Jamali, received 16.3% of the votes. In Sambhal, Mohammad Mushir Khan Tarin got 8.8% of the votes but could not prevent Iqbal Mehmood from getting elected. In Utraula, Abdul Mannan did get 6% of the votes but could not cause the defeat of Hasib Khan (SP). The AIMIM's performance may seem modest, but the number and size of their rallies show that it represents an important voice among Muslims in Uttar Pradesh.
Experienced politicians
What do we know about these 34 Muslim MLAs? 18 of them have been elected for the first time. The other half includes several veteran politicians. Azam Khan, who contested from jail, won a 10th term in the assembly from his stronghold of Rampur. Iqbal Mehmood (SP) won a seventh term in Sambhal. Fareed Mahfooz Kidwai won a sixth term in Ramnagar. Mehboob Ali and Alam Badi, in Jyotiba Phule Nagar and Azamgarh, are both serving for a fifth term. In total, 10 Muslim legislators are serving for the third time or more. Ten of the 24 Muslim MLAs elected in 2017 have been re-elected, which is not a low number considering that only 14 of these 24 legislators re-ran.
Of the 34 Muslim MLAs, 15 have declared business and 9 agriculture as their main occupation. The other 10 are either retired, employed or engaged in some form of social work. As far as we can tell from data collected through fieldwork, 11 of the 17 Muslim MLAs who have been elected in 2022 belong to Muslims' upper castes, against six backward Muslims. 13 of the 18 new MLAs are also upper-caste Muslims.
A product of polarisation
The increase of Muslim MLAs in a state where they are systematically excluded from representation by the party in power is the product of a polarised verdict. Muslim voters massively supported the SP and its partners in a bipolar contest against the BJP. Muslims in Uttar Pradesh tend to vote strategically rather than en bloc. This year is no exception. Polarisation helps Muslims to occupy some of the oppositional space. Who will listen to them remains an open question.
Gilles Verniers is assistant professor of Political Science and co-director, Trivedi Centre for Political Data.
SV Sai Vikas is a junior research fellow at the Trivedi Centre for Political Data
The views expressed are personal
Enjoy unlimited digital access with HT Premium
Subscribe Now to continue reading