Ever heard of antakshari of couplets or baitbaazi?
Feb 16, 2018 04:54 PM IST
The Urdu Heritage festival being hosted in Delhi (Feb 15-20, 2018) will feature baitbaazi competition.
Old Delhi's Babban hotel was once a hub of Urdu poets. Every summer, they would spend their evenings at the café indulging in baitbaazi – a competition that tests how readily one can recite couplets. It is similar to the popular Hindi song-competition antakshari, except that in baitbaazi, the teams recite couplets instead of songs. Each team has to respond with a couplet that begins with the last letter of the couplet recited by the previous team.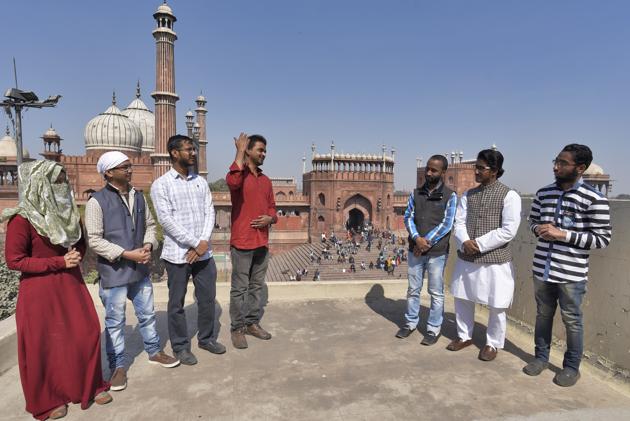 Bait means couplet in Persian; baazi means competition or game. Baitbaazi was not only a source of tafreeh (fun) but it also added to one's vocabulary and repository of couplets. "Even people who owned workshops and didn't get formal education used to know hundreds of ashaar (couplets). And mind you, they used to recite adabi (literary) and not bazaaru (popular) ashaar," said Haji Mian Faiyyazuddin, 80, a Walled City resident.
Stay tuned with breaking news on HT Channel on Facebook.
Join Now
For those who are not well versed with this indoor game that goes back to the Mughal era, a baitbaazi competition will be held between eight teams of different universities – including Delhi University, Jamia Millia Islamia and Jamia Hamdard – at the ongoing Urdu Heritage festival. The five-day event organised by the Urdu Academy (under the auspices of the Delhi government), concludes on the 20th. Apart from baitbaazi, it has ghazals, qawwalis, dastaangoi performances, plays, demonstrations of live calligraphy.
WATCH: DISCOVER BAITBAAZI
"Urdu is not only a language but a culture. The festival celebrates this culture and its legacy. The festival has something to offer to every Urdu lover and enthusiast," said Professor Shahpar Rasool, general secretary, Urdu Academy and department head, Urdu language, at Jamia Millia Islamia.
According to Ehtemam Ul Haq, who is doing a BA in Urdu from Jamia Millia Islamia, and will represent the university at the festival,"Sometimes, the competing teams or individuals are given one word or the name of a poet. All the couplets they recite should contain that one word or be written by that one poet." The winner is decided on the basis of how promptly teams or individuals respond to the opposite team's couplet, rhythm, pronunciation and style of presentation or tehtul lafz.
"Educational institutes in India that impart courses in Urdu, Arabic and Persian routinely conduct baitbaazi competitions," said Ali Rizvi, an undergraduate at Delhi University. "I developed a rich repertoire of Urdu poetry ever since I started participating in these competitions."
Rizvi's team mate Yaseen Mirza said, "During my childhood, I heard stories of baitbaazi from my grandfather. Before independence, influential families used to organise baitbaazi majlis (gatherings) that would go on until wee hours. Different teams would sit on the floor, around a shamaa (candle). And they had to sit pozanu (on the knees)," said Mirza.
WHAT: Baitbaazi competition (part of the Urdu Heritage festival conducted by the Urdu academy, Delhi).
WHEN: 4 pm, 18 February.
WHERE: Central Park, Connaught Place, Delhi.
NEAREST METRO STATION: Rajiv Chowk.
*The Urdu Heritage Festival is on till Feb 20, 2 pm-10 pm daily. Details on urduacademydelhi.com.