Assault on secularism: How parties reacted to Adityanath's elevation to UP CM
Hindustan Times, New Delhi |
Sabir Hussain
Mar 19, 2017 09:59 AM IST
Opposition parties have slammed the Yogi Adityanath's appointment as Uttar Pradesh chief minister for his hardline views and lack of administrative experience.
The BJP's decision to appoint Hindutva hardliner Yogi Adityanath as Uttar Pradesh chief minister has drawn an avalanche of reactions from opposition parties. Expectedly, none of them are flattering.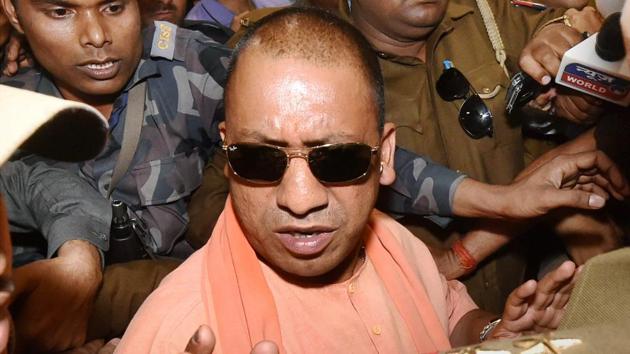 Congress chief spokesperson Randeep Surjewala sounded cautious after the BJP gave UP's top job to Adityanath.
"Excessive delay in arriving at a decision as also the compulsion to create two posts of Deputy CMs reflects a bitter conflict to share spoils of power despite overwhelming majority of over 300 MLAs," he said.
Another Congress spokesperson Priyanka Chaturvedi said, "Congratulations UP! Hello media the man you called 'fringe' is now mainstream!."
In another tweet, she said, "Also the 'vikas ka mukhauta'. The mask is truly off.. bring on Shamshaan-Kabristaan, Diwali-Eid narrative".
Other Congress leaders don't mince words either
"It is a big assault on secularism in the country. Maybe, the BJP or RSS would like to endorse their cause of Hinduism. India is not Hinduism. Hinduism is not India," senior Congress leader Veerappa Moily said.
Another senior Congress leader Salman Khurshid tweeted, "No more pretence! Yogi Adityanath to sit where Pantji, NDT, Bahugana et al once sat. Great test PM has put BJP trolls to. Explain this."
CPI(M)
The CPI (M) accused the BJP of systematically playing communal card in India's biggest state, after the saffron party named Adityanath as UP CM.
"Selection of Adityanath is the culmination of Modi-Amit Shah brand of politics in the state where the BJP systematically played communal card," said the party's politburo member Md. Salim.
Another CPM leader, Brinda Karat termed Adityanath's selection as part of "RSS agenda".
"It is clearly the RSS agenda and UP is the new experimental field for it. Since it is the victory of RSS (in UP elections), it has chosen the CM."
BJD leader Bhartrahari Mahtab
The Biju Janata Dal also questioned the decision to appoint Adityanath as chief minister.
"He (Yogi Adityanath) never held any administrative post. This is an opportunity for him to prove his mettle. I hope he lives up to the expectations of all the people in UP," said BJD leader Bhartrahari Mahtab.
SP's Naresh Agrawal
Samajwadi Party MP Naresh Agrawal reacted cautiously.
"I congratulate him on his election. We will wait and watch for six months. We hope he will change his thinking and desist from creating a divide between Hindus and Muslims. If he does, we will go among the people and oppose him," he said.
Trinamool Congress
Trinamool Congress MP Saugata Roy said: "The BJP is in majority and it is their prerogative as to whom they name as the Chief Minister. But it is evident that the BJP wants to pursue a strong Hindutva line in Uttar Pradesh."
Shiv Sena
The Shiv Sena whose alliance with the BJP is under stress, also had a word of caution for the firebrand MP who has a history of making divisive remarks.
"The controversial remarks won't work now as he will be the next chief minister of the Uttar Pradesh, India's largest state. If in case he does make such remarks, it will create chaos in the state. Now he should talk about development," Shiv Sena leader Sanjay Raut said.
(With inputs from agencies)