BSP ignores mass gatherings, goes door to door for votes
Jan 31, 2017 11:33 PM IST
It is quite possible that the lack of star campaigners in the BSP might have prompted the party to adopt this policy this elections
The Bahujan Samaj Party (BSP) is relying on the traditional door-to-door campaign to woo voters in the upcoming elections.They have been holding meetings with groups of voters instead of organising public rallies.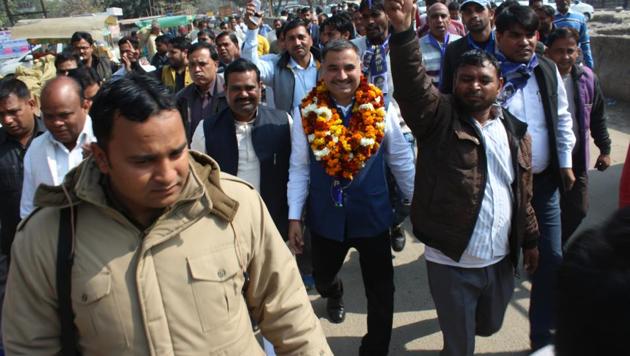 The BSP candidate for Noida, Ravi Kant Mishra, along with his supporters, are visiting residential sectors and urban villages across the assembly segment, right from the beginning, whereas other parties were busy holding large gatherings.
Lal Singh Gautam, the district president of BSP, said that the party has been following the traditional campaigning methods. "We have seen in the past that personal contact with voters has much more impact. A voter expects to see his/her candidate face-to-face before the elections. It is different from a public rally, in which top leaders address a large gathering of voters," he said.
It is quite possible that due to a lack of star campaigners in the BSP, the party might have adopted this policy. Mayawati is not planning to hold a rally in Noida as the city is considered to be jinxed, as many chief ministers in the past have lost the elections after visiting Noida.
BSP national general secretary, Naseemuddin Siddiqui, visited Noida on January 24 to address an audience of a few thousand for party candidate from Noida.
Gautam said that Mayawati will not be visiting Noida. "Behenji is not coming to Noida. Senior party leader Satish Chandra Misra might visit on February 4 or 5. However, he has not confirmed his programme so far," he said, adding that the BSP chief has directed them to concentrate on door-to-door campaigning.
Jyotsna Bhatt, the media coordinator of BSP MLA candidate Ravi Kant Mishra, said,"We believe in doing work on the ground quietly. Holding public rallies, raising hoardings, party flags might invite the ire of the Election Commission. We have been told not to violate the model code of conduct for elections."
She said that the party candidate, accompanied by the party workers, will visit five to six villages daily during the day and also cover a couple of sectors in the evening.
"The women volunteers of the party, accompanied by Ravi Kant Mishra's wife Puja, meet the women residents of two to three sectors during the day, every day. We lay emphasis on door-to-door canvassing," Bhatt said.
Keeping pace with the changing times, the social media wing of the BSP keeps updating its net savvy supporters, though small in number, with the daily visits of the candidate to various areas in the city. "Our Facebook page and Twitter account of the candidate gives regular updates about the programme to keep our supporters abreast of developments," Avinash Yadav, in-charge of Mishra's social media cell, said.