Punjab poll results: No CM face, 'radical link' did AAP in
Mar 12, 2017 04:49 PM IST
The Aam Aadmi Party (AAP) party appears to have lost a winning battle in Punjab, and the reasons are not difficult to assess.
The Aam Aadmi Party (AAP) party appears to have lost a winning battle in Punjab, and the reasons are not difficult to assess.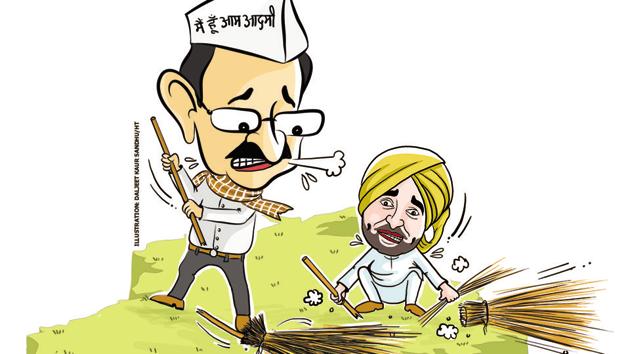 The party, which made its Punjab assembly polls debut, came in second. Punjab was the only state in the country from where the Arvind Kejriwal-led party had won four Lok Sabha seats mopping up a 24.4% vote share.
The AAP was tipped to upstage the ruling Akali-BJP alliance and relegate the Congress to the runner-up spot in the assembly polls two-and-a-half years later. The pre-poll hype indicated as much. The results on Saturday didn't back such a view.
Don't miss | In a first, new Punjab House will have divided Opposition
AAP's loss could be attributed to it losing touch with the urban Hindu and moderate Sikh voter when a perception grew that the party was hobnobbing with Sikh hardliners. Kejriwal chose to stay in the house of a former militant during his last leg of campaign.
The party's inability to project a credible Jat Sikh face as its candidate for the chief minister's post ahead of the polls dented its fortunes. Top contenders for the CM's post such as Bhagwant Mann and Harinder Singh Phoolka campaigned with uncertainty. Also, Kejriwal's inability to pull in popular cricketer-turned-politician Navjot Singh Sidhu, who could have been a big asset for the AAP, has had an impact.
Mann too remained embroiled in controversies as parliamentarian through the election year, after he posted live pictures from inside Parliament on social media.
The fault lines in the party's organisational structure came to the fore after the first signs of dissent. The party was divided on a trust deficit between local AAP leaders and its high command in New Delhi, leading to the emergence of an "outsider-versus-insider" rhetoric.
Starting with the throwing out its state convener Sucha Singh Chhotepur in August, the party went spirally down. Allegations of corruption and sale of tickets clipped the party's calling card — honesty and transparency.
Besides, the tone and tenor of AAP's campaign was extremely negative, focusing almost entirely on underscoring that Punjab is in a state of mess, and in the grip of "goonda raj" under the SAD-BJP alliance.
For larger issues such as the sensitive dispute on sharing river water with neighbours such as Haryana, the AAP all but managed to offer a wavering stand.
The party's lack of experience and knowledge of local traditions led it to make avoidable mistakes. The party's first manifesto showed a broom — its poll symbol — superimposed on an image of the Golden Temple.
Follow
Karnataka election
news, exit polls, election schedule and results on Hindustan Times