Principal Correspondent posted at Kota (Rajasthan). Has Experience of over 15 years in Journalism and covers every field in Kota
Articles by Aabshar Hassan Quazi
The tiger cubs at Ranthambore reserve were initially sighted without their mother T-111 but were seen in her company later in the evening.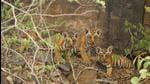 Published on Jun 20, 2021 01:19 PM IST
Moid Anwar and his brother Moin not only sell firewood but made all arrangements for cremation and their services were exceptional during the peak of Covid-19 crisis, said a Hindu priest.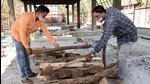 Published on May 27, 2021 01:19 PM IST
The plot was grabbed in connivance with Meena, Jagannath, and Babbu Gupta, all employees of the Kota Municipal Corporation.


Published on Apr 01, 2021 11:24 AM IST
A 17-year-old girl has told the Kota police that she was repeatedly raped by strangers during the eight days that she was confined in the adjoining district of Jhalawar.

Published on Mar 08, 2021 09:48 PM IST
Several experts said that full-scale resumption of economic activity, near full people movement and laxity in compliance to Covid appropriate behaviour are reasons behind the recent spurt in cases.

Published on Mar 04, 2021 04:31 PM IST
Thousands of protesting farmers have been waiting at Delhi's borders for almost three months, demanding the repeal of the three central farm laws.


Updated on Mar 03, 2021 09:10 PM IST
In a first, excise department will e-auction liquor shops in Rajasthan


Published on Mar 02, 2021 05:12 PM IST
The gold, whose market value stands at ₹27.29 crore, is lying in the treasury of the Udaipur collector.

Updated on Feb 22, 2021 07:27 AM IST
Defending the farm laws in Parliament, Prime Minister Narendra Modi said that the new laws are not binding on the farmers and that they are free to sell their produce anywhere in the country.


Published on Feb 12, 2021 04:37 PM IST
Earlier only still photography was allowed at such monuments and museums but now interested people will be able to record wedding videos by paying fees.

Published on Feb 03, 2021 07:53 PM IST
A committee will take a final call on whether to go to Delhi or join the agitation at Shahjahanpur border in Alwar.


Published on Feb 02, 2021 06:44 PM IST
9 out of the 12 ancient idols have reached Jhalawar museum from Ajmer, while the remaining idols could not be brought due to their fragile constitution, said an official.


Updated on Jan 29, 2021 12:01 PM IST
The accused put up the warning against the corporator on his facebook page and made offers to hire contract killers, following which, police's cyber cell traced and nabbed him


Updated on Jan 23, 2021 01:06 PM IST