Articles by Ananda Banerjee
Aditya 'Dicky' Singh was a tiger – a large-hearted gentleman. His sudden, untimely passing, at the age of 57  from  a heart attack, has come as a shock to the wildlife fraternity.  

Updated on Sep 07, 2023 01:00 AM IST
India's tiger reserves have done well. But there remains a key question: How many wild tigers can the world's most populous nation sustain?

Published on Aug 03, 2023 10:53 PM IST
India is drowning in toxic plastic waste and waking up only on June 5 will not help. We must focus on individual action

Published on Jun 04, 2023 09:01 PM IST
To protect India's national heritage animal, government departments must join hands and implement the framework that an elephant expert task force prescribed in 2010

Updated on Mar 13, 2023 07:03 PM IST
India's big cat numbers are rising. But one in every three lives outside reserves, leading to human-animal conflicts. Give a thought to not just tigers outside protected areas, but also to many species fighting to survive in an altered world

Updated on Jan 16, 2023 08:28 PM IST
It's not just Mirzapur. Many such lesser known wild landscapes are disappearing across India. Apart from forest diversions for developmental projects, illegal land grabbing, unsustainable mining practices and converting forests into farmlands are rampant

Updated on May 21, 2022 12:25 PM IST
Environmental journalist Bahar Dutt's new book turns the spotlight on some of the incredible conservation work being done in the country

Updated on Jan 17, 2020 07:21 PM IST
Hindustan Times |
By
Ananda Banerjee
More than just a field guide, Birds About Delhi celebrates the rich natural heritage of the capital and its surrounding areas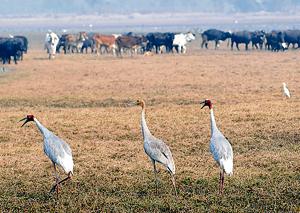 Updated on Feb 15, 2019 05:47 PM IST
Hindustan Times |
By
Ananda Banerjee