Articles by Chandrachur Singh
Centenary celebrations are not meant to just lay down goals for an institution's continued march forward, but also to pause and reflect on the past

Updated on Apr 30, 2022 08:02 PM IST
Organisational presence, dynamic recruitment policy, developmental narrative and the presence on the grassroots to connect the masses with the leadership is essence of success

Published on Mar 22, 2022 06:52 PM IST
The ground realities of UP — India's most-populous state with 80 Lok Sabha seats and 403 assembly seats — are not the same as Bengal

Published on Jan 24, 2022 08:50 PM IST
For about 10 of the 94 courses in DU's colleges, the cutoff in the first list this year was a perfect 100%.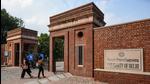 Updated on Oct 10, 2021 07:25 PM IST
Topping the charts is not an easy enterprise. However, Miranda's rise proves that educational institutions can excel by motivating stakeholders to act in concert for setting and achieving goals of collective excellence

Updated on Sep 14, 2021 05:55 PM IST
By
Chandrachur Singh and Hena Singh
The need to put an alternative mechanism of assessment in place, robust enough to yield results both in normal times as well as in times of exigencies, is essential

Updated on Jun 08, 2021 07:35 AM IST
By
Ameeta M Wattal and Chandrachur Singh
Will people of Bihar have the government of the collation which they will be voting for, or will alliances, which aren't even visible at the moment, rule the roost?

Updated on Oct 19, 2020 07:26 PM IST
By
Sanjay Kumar and Chandrachur Singh
Be alert, take hard decisions, ramp up health infra, use local representatives, restrict rights but only temporarily

Published on Apr 15, 2020 07:05 PM IST
Delhi University is at the centre of a storm with its decision to go ahead with its four-year undergraduate programme. But this programme is the need of the hour and equips students with employable skills. Kavita Sharma and Chandrachur Singh write.

Updated on Jul 10, 2013 07:36 AM IST
Hindustan Times |
By
Kavita Sharma and Chandrachur Singh
, New Delhi