Gurman Bhatia was part of Hindustan Times' nationwide network of correspondents that brings news, analysis and information to its readers. She no longer works with the Hindustan Times.
Articles by Gurman Bhatia
Between 2013 and 2018, the number of BJP legislators in the eight states of the region increased fifteenfold — from nine in 2013 to 140 in 2018, an analysis of election data by the Hindustan Times shows.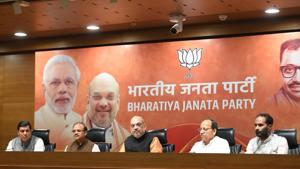 Updated on Mar 06, 2018 11:49 AM IST
Hindustan Times, New Delhi |
By
Samarth Bansal and Gurman Bhatia
Since Maths and Economics have an element of statistical ability, experts think it is not surprising that they have high failure rates in CBSE Class 12 board exam.

Updated on Jul 02, 2017 05:12 PM IST
Hindustan Times, New Delhi |
By
Manas Sharma and Gurman Bhatia
Among the women candidates in MCD elections, there are school principals, Taekwondo coach, teachers, Reiki consultant, tea sellers, tailors, vegetable seller, yoga expert and wives of Delhi police head constables.

Updated on Apr 21, 2017 03:26 PM IST
Hindustan Times |
By
Prawesh Lama and Gurman Bhatia
, New Delhi
The Aam Aadmi Party (AAP) proved a spoiler for the ruling Shiromani Akali Dal-BJP combine in Punjab, unlike pre-poll perception that new entrant in the state's politics will erode Congress votes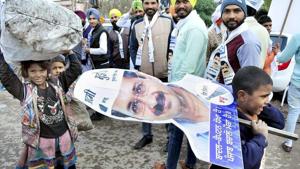 Updated on Mar 12, 2017 08:48 PM IST
Hindustan Times, New Delhi |
By
Jatin Gandhi, Samarth Bansal and Gurman Bhatia
The criminalisation of politics emerged in UP in 1980's when the village panchayat and assembly polls were held under the shadow of dacoits.

Updated on Feb 19, 2017 08:32 AM IST
Hindustan Times |
By
Gulam Jeelani and Gurman Bhatia
Dalits comprise the BSP's most ardent supporters, suggesting the party should do well in reserved seats such as Bilhaur, but BSP supporters say that such seats are often the hardest to win

Updated on Mar 06, 2017 06:52 AM IST
Hindustan Times, Bilhaur |
By
Aman Sethi and Gurman Bhatia
Of the 1,145 candidates contesting the Punjab assembly elections, 92 have the same name as another contestant in their constituency.

Updated on Feb 03, 2017 11:41 PM IST
When Punjab goes to polls on February 4th, 1,145 candidates will battle it out for 117 seats. We looked at the final list of candidates and broke down the trends for you.

Updated on Jan 29, 2017 03:08 PM IST