Articles by Payal S Kapoor
Ads have the ability to offend people based on the values that a society holds dear. This is because, in collectivist cultures, perceived insults or simply deviations from dominating social attitudes can directly influence a person's self-esteem.

Published on Oct 04, 2022 06:21 PM IST
While external locus of control (LOC) describes the belief that the outcome of events in one's life is caused by chance or fate, internal LOC describes the belief that actions determine outcomes

Published on Mar 12, 2022 06:40 PM IST
As images of those gasping for air fade from people's memories, how has citizen behaviour flip-flopped to disregarding Covid-19-appropriate behaviour such as ensuring physical distancing and wearing masks? Why is the fear of the virus ebbing?

Updated on Jul 29, 2021 04:09 PM IST
The proper procedure entails that these children enter the legal adoption pool, which is critical not only for their well-being but also for the legal protection of the family unit formed through adoption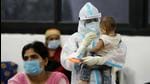 Published on Jun 12, 2021 06:45 PM IST
By
Smriti Gupta and Payal S Kapoor
Health information, specifically on social media, is often published, shared, and re-shared, irrespective of its veracity, frequently leading to the spread of misinformation and rumours under the guise of truth

Updated on May 26, 2021 03:50 PM IST
The pandemic necessitated decreased social interaction, and an adoption of recommended preventive behaviour. However, research suggests, when people find themselves in a potentially dangerous situation and others around them seem unfazed, they are likely to remain unfazed

Updated on Nov 23, 2020 06:22 AM IST
Learning from other nations, can we not, for instance, say we will physically meet members from another household only for essential purposes, like care-giving, and forsake physical interaction for all other avoidable purposes?

Updated on Sep 14, 2020 08:39 PM IST
Many continue to go about their lives, refusing to follow simple preventive health guidelines, as if the world is already in a post-pandemic era

Updated on Aug 30, 2020 09:14 PM IST
Payal S. Kapoor tells us how she transformed herself to finish her first ironman 70.3 race.

Updated on Mar 03, 2020 01:19 PM IST
Hindustan Times |
By
Payal S. Kapoor