Articles by Tarishi Kaushik
Developers have continuously redefined the township model as per the market demand. But now, there is an urgent need for the township model to be rediscovered with a growing focus on water conservation and zero-wastewater discharge.


Published on Apr 28, 2022 07:43 PM IST
Over the years, numerous factors — rapid urbanisation, growing population, economic growth, and rising purchasing power in India — have led to the high consumption of energy and resources in buildings.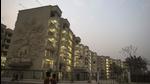 Updated on Oct 26, 2021 08:21 PM IST
By
Deepak Singh Rana and Tarishi Kaushik