Articles by Uma Gupta
Data from the World Resources Institute of Climate Watch (CAIT) dataset shows that India was the third-largest emitter of greenhouse gases (GHG) in absolute terms in 2019, after China and the United States.

Updated on Nov 07, 2022 02:54 PM IST
When it comes to the US dollar, the world's leading currency, India is taking small steps to look beyond.

Updated on Oct 21, 2022 11:25 AM IST
The 20th National Congress of the Communist Party of China (CPC) began in Beijing on October 16. While the run-up to the 20th congress has been dominated by talks of Xi Jinping getting elected as the highest leader for an unprecedented third consecutive time, the gathering will also have to confront serious and somewhat new questions as far as the Chinese economy is concerned.

Updated on Oct 18, 2022 09:44 PM IST
On July 17, there was large-scale violence in the Kallakurichi district of Tamil Nadu after a student of a private school died by suicide.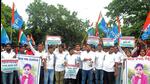 Updated on Aug 05, 2022 12:06 PM IST