MP by-election: In Petlawad, blast victims' kin still in pain
Nov 18, 2015 05:44 PM IST
With just a few days left for the polling for Ratlam-Jhabua by-election, political temperatures are running high in the area, but the mood in Petlawad is largely sombre.
"I don't want to vote this time. I am too anguished to decide and say anything," says Preeti Patwa, 38, whose husband Shailesh died when a huge quantity of mining explosives stocked illegally in a building went off at the busy Thandla Road here on September 12.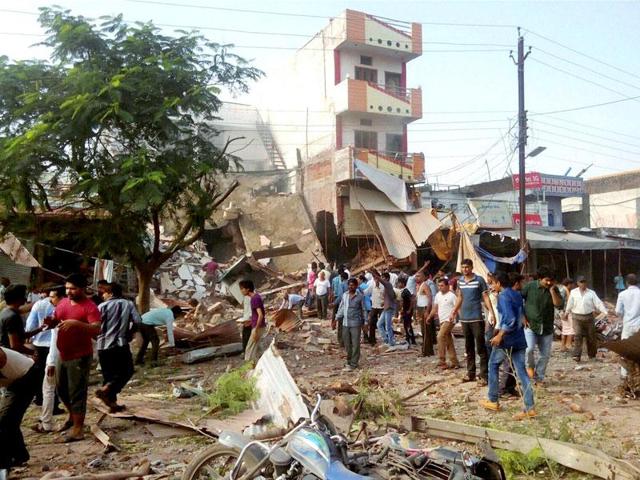 Shailesh, who was a member of the BJP business cell, owned an auto parts shop located two blocks from the blast site. "I lost my son, my business. I don't know how to react to poll promises in this by-election," says Preeti's 76-year old father-in-law Basantilal Patwa.
The by-election to the Ratlam-Jhabua Lok Sabha constituency, polling for which will be held on November 21, was necessitated by the death of incumbent BJP MP Dileep Singh Bhuria.
While the BJP, in an attempt to cash in on a possible sympathy wave for the deceased leader's family, has fielded his daughter and sitting MLA from Petlawad Nirmala Bhuria, Kantilal Bhuria is the Congress's nominee from the constituency.
With just a few days left for the polling, political temperatures are running high in the area, but the mood in Petlawad is largely sombre.
Though business has resumed in 35 shops located on Thandla Road, the emotional scars are too deep to overcome. There are 11 business families who lost young earning members in the blast.
"I am still very disturbed mentally. Everything appears hazy. All the family responsibility is on me now," says Sachhidanand Bhatodara whose elder brother Vinod, 45, died in the blast.
"One doesn't know how will family members of the deceased react to by-elections. We may decide (about whom to vote) at the last moment," he adds. The Bhatodara family owns a tractor repair workshop metres away from the blast site.
The festive season too brought in little to cheer the Petlawad residents. "Dussehara and Diwali were dull. There was no business till one month after the blast on Thandla road. Buyers did not come after 6 pm because of fear and anguish. We are struggling to overcome emotional bruises and business losses," says Anil Jain who owns a tyre shop opposite the blast site. Jain received a cut in the cornea of the right eye in the blast.
Petlawad cotton and grain merchant association secretary and co-convener of the BJP business cell Vinod Kumar Bapna admits that it will be difficult to bring family members and relatives of the deceased to polling booths.
"They think the blast could have been avoided if the district administration had been alert and prevented absconding accused (Rajendra Kaswa) from stocking illegally acquired explosives. They think government should have been transparent in dealing with such people," Bapna says.
The victims are also complaining that though the state government distributed compensation, it did not keep its promise of giving government jobs to family members of the deceased and free education to their children.
"We are waiting for by-elections to get over. We will push it after that," Sachhidanand Bhatodara says.
Other than those who suffered due to blast, the tragedy is likely to have little impact on the by-polls. People will vote for party of their choice, says Narendra Kumar Batewara who runs a bus service in Petlawad.
Meanwhile, the Congress and the BJP are claiming to get majority votes from the city. While Congress candidate Kantilal Bhuria has been raising the issue of blast deaths at every election rally, BJP candidate Nirmala Bhuria says it will have no impact as the BJP-led central and state governments can alone deliver goods.
According to Jhabua district collector Aruna Gupta, cash compensation of Rs 6 lakh each has been given to family member of 71 people who died in the blast. The remaining three disputed cases are in court.