I would love to essay dark roles: Ayushmann Khurrana
Hindustantimes.com |
, New Delhi
Sweta Kaushal
Sep 14, 2013 01:31 PM IST
Ayushmann Khurrana says, "I would love to essay a dark role. But as of now, I'm content playing the happy guy." The actor-singer, who turns 29 on Friday, talks to Sweta Kaushal about some memorable moments from his romantic life and more.
Actor-singer Ayushmann Khurrana is all set to release his first single on Saturday, his 29th birthday. Khurrana talks about his single, his future plans, some memorable moments from his romantic life and more in an exclusive interview with Hindustatntimes.com.
Elaborating on why he chose his own birthday to release the first single, Ayushmann says, "Lots of people were asking me when is my next song releasing and I told them it will be in my next film. The film will release next year so I though it is a good idea to come out with a single in the meanwhile."
"O Heeriye song is Punjabi folk-rock but the lyrics are slightly different. While Paani Da and Saadi Gali had cathartic lyrics, this song is a happy romantic song. Also, I have deliberately used lesser Punjabi in this song," the actor opens up about his latest number.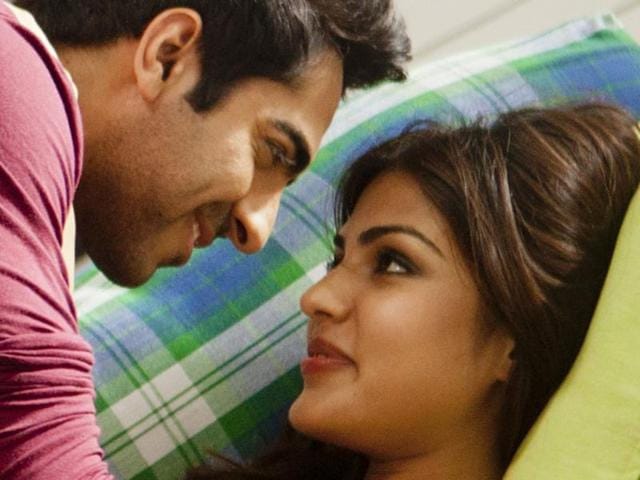 Further talking about his favourite singers, Ayushmann says, "I really revere Kishore Kumar and Rafi Ji. And I love Cold Play and John Meyer. I think Kishore Da and I are both similar and different in the sense that we are both singers and actors but he was more of a singer while I am more of an actor. I think I am more versatile as an actor. My voice suits a certain kind of songs and I do not think I can offer variety when it comes to singing.
Ayushmann certainly is as romantic in real life as we have seen him on screen. Hume Tumse Pyar Kitna and Ae Zindagi Gale Le are two of Ayushmann's favourite songs. He also loves SD Burman and Ilayaraja songs. Excerpts from his interview:
You were a director in Nautanki Saala. Who would have done justice to your role in Vicky Donor and Nautanki Saala, apart from you?
I think Ranbir Kapoor can do any kind of role.
What is Ayushmann Khurrana in real life?


I do not believe in putting up a facade. There is no need to act when we are not in front of the camera. I am the guy next-door who is earthy and who is level-headed for sure.
I think we lend our personal traits to the roles we play. There was a bit of Ayushmann in RP (Nautanki Saala) and Vicky (Vicky Donor). I try to be as real as possible.
What are your future projects in the pipeline?


I am working on a biopic right now. But I can't reveal much about the character or the script. I recently finished my Yash Raj Films' project with Sonam (Kapoor) and Rishiji. After I finish the biopic, I will start shooting for Humara Bajaj around January.
I want to take it slow. I do not want to be working in three different roles in a year. As of now it's just Humara Bajaj.
What are your birthday plans?
I am not really a birthday person, though I am releasing my single on my birthday. But co-incidentally, it is my off so I decided to release the single on this day.
Would like to share some memorable family moments?
I hardly get the time. I am working in Mumbai, she is pursuing her Ph.D from Chandigarh. But I do remember our college days when I used to go to Kasauli every weekend on bike with Tahira, my wife.
Who is closest to you in the family?
I have different kinds of relations with my mom, dad and my wife of course. With my dad, I share a Krishna-Arjun kind of relation. I am not too ambitious; he is the one who pushes me to achieve things.
My mother is the most non-judgmental person I have known and my wife is the person who keeps me grounded. As for the kid, he is just a year and half old and I hardly get to meet him, not more frequently than once in two months. I am still getting used to the fact that I am a father.
When will we see you in the role of a brooding, silent type of hero?
Yes, I would love to essay a dark role later on in my career. But as of now, I am content playing the happy guy.
What do you think causes incidents like Delhi and Mumbai gangrape and what could help curb them?
To be frank, I am against capital punishment. Having said that, the culprits should be given the most severe punishment. I think when people come from rural India to urban centres, they are in for a cultural shock and they judge women who dress in a certain way. I think we should sensitise people about the cultural divide and narrow the gap.
We can reach out to people with education. As of now, I do not think I have the power to influence people. Most of us (young actors) are more concentrated in urban areas but when we have the reach in rural areas, our actions can influence people.