'If Madhuri's film is fictional, why did they name it Gulaab Gang?'
Hindustantimes.com |
, New Delhi
Sweta Kaushal
Mar 05, 2014 04:52 PM IST
Anubhav Sinha has clarified that his film is not based on Sampat Pal's Gulabi Gang. Nishtha Jain, whose film Gulabi Gang hits theaters on February 21, talks about her documentary and Gulaab Gang's connection with Pal's group.
Despite clear indications on the contrary, producer Anubhav Sinha has said that his Madhuri Dixit, Juhi Chawla-starrer Gulaab Gang is not based on Sampat Pal's group Gulabi Gang.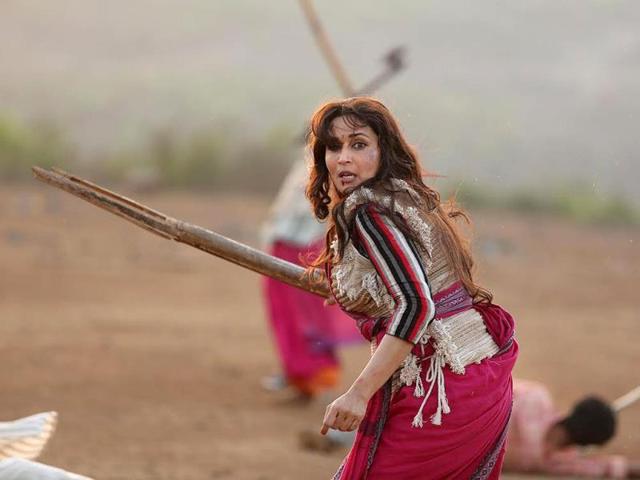 Just days before Sinha's Gulaab Gang hits theatres (March 7), a documentary - Gulabi Gang - is set to be released on PVR screens. Nishtha Jain, the woman behind the documentary, talks about her film, Sampat Pal's group and more in an interview.
Stay tuned with breaking news on HT Channel on Facebook.
Join Now
Here is the interview in detail:
Gulabi Gang is set to be released in theaters. How victorious do you feel about the theatrical release?
I'm happy that I'm getting a chance to share my film with a wider audience. The real victory would be when the film reaches small towns and villages. The current release is in metro cities which is also very important. The rural-urban disconnect in India is bigger than we imagine. Urban people need to know more about rural India. What has been shocking is the number of young urban Indians who have been telling me that they have never seen a documentary before. I don't know how that came about but it shows how the film distribution system in India has effectively choked alternative voices in India.
Do you think documentaries are not getting their due in India?
In the recently concluded MIFF, I saw a couple of absolutely amazing films made by young people from small towns. These filmmakers are asking bold questions and using bold styles of filmmaking. These films should be seen by more people. The irony is that Indian documentaries have been winning accolades all over the world much more than fictional cinema but they don't get seen by enough people back home. I do sincerely hope that documentaries will occupy an important stage in Indian cinema in the near future. We all have to struggle to create this space.



Tell us about the experience of shooting the docu. How difficult or easy were the circumstances and the women Of Gulabi gang?
It took me four years to finish the film. The problems were more to do with getting money to make the film as the film required a bigger budget that would enable us to shoot longer and travel long distances. I could not have done it with paltry budgets or production conditions that exist for Indian documentarians. As for the Gulabi Gang women, I never asked them to do anything especially for the camera. The film is shot in direct cinema style, everything captured as it is happening. Nothing is repeated for the camera. However I do break the format a little when I ask them questions.

Is it a conscious decision to release your documentary just before the release of Madhuri Dixit's Gulaab Gang?
Yes. It wasn't a good idea to release our documentary after the Bollywood film because I couldn't be sure whether it would arouse the curiosity of people about the real gang or kill it. Given the widespread ignorance about documentary and fiction in India, most people would have assumed that the Bollywood film is about a real gang.

has now claimed that his movie is not Sampat Pal's story. Do you think that's just because your film releases before his?
He has said so on several occasions that it's an entirely fictional story. If that's true, I don't understand why they used the name and colour of the real Gulabi Gang. And if they were inspired by the real gang, they should have taken permission from the Gulabi Gang leaders and members and actually gone to meet them and learn about their circumstances.

But I do want to clarify that Gulaab Gang is not based on mine as some media people are wrongfully suggesting. We'll only know once the film releases what it's based on. They have never contacted me and I don't know if they have seen my documentary. I also want to add that I don't hold copyrights on the group called the Gulabi Gang in Bundelkhand. I don't work for them. My film is not commissioned by them or anyone and it's is only one amongst many films about them.

How do you see today's Indian cinema in the age where Grand Masti and Ship of Theseus co-exist?
I think it's very interesting that Gulabi Gang, a documentary, and Gulaab Gang, a Bollywood film, are releasing around the same time. We cannot compare ourselves with them in terms of financial resources at their disposal. They have stars in their films and in this star-crazy country that matters a lot. They also have a multi-crore publicity machine working for them. In contrast we are working with very little money but what we lack in terms of money is made up amply by our enthusiasm to change the viewing climate in India. It's not only about this film, we want to create a platform for new and alternative voices.

Tell us something about your film.
My film is not an easy film to watch, it does not simplify the complex ground reality. However, despite its complexities, it's still engaging, engrossing and gripping – attributes which are associated usually with fiction cinema. Moreover my film is not a feel-good film and doesn't carry a simple message. It's not a hagiography, which means that it's not a biography idealising its subject. It presents the difficult circumstances in which this movement is growing and the challenges they face. You will see real, weather-beaten people, their skin tones reflect the hardships they face, the lives they live.

On how many screens is your film releasing?
In most metro cities, the number of screens will be decided soon.

How did Soham Shah and Anand Gandhi come aboard?
Anand Gandhi saw my film at Dubai in 2012 and he's been talking about it ever since. When I finally fixed the release date with PVR and they gave me the estimates of costs involved about how much it'll cost, I happened to call him. I was going to back out of the release because we had no money or any sort of back-up to pay for the release. I was delighted when Sohum Shah after seeing my film said he was stunned by it and would like to release the film in India.

How do you feel getting the award for best director at Mumbai International Film Festival?
I'm overwhelmed. This was the first time my film was selected at MIFF which is India's oldest and biggest documentary film festival. To be able to play in my home turf is an award in itself. I've made seven films in the last 10 years and screened them in around 200 international film festivals. Most of these films have won accolades, big or small but Indian film festivals continued to elude me up until now. So, the MIFF selection and the award feel like homecoming. I'm really thankful to the MIFF selection and awards jury. 'Everything happens in its own sweet time' that's what my mother always reminded me so I'm trying to enjoy this moment fully.


Filmmaker Kiran Rao, who held a screening for Nishtha Jain's Gulabi Gang, said she is supporting the documentary made on the life of Uttar Pradesh-based social activist Sampat Pal as it has inspired her. "I have watched this documentary. It inspired me. So I want to support this documentary," Kiran told reporters.

Meanwhile, Gulaab Gang, a film loosely based on Sampat Pal's life is also coming up. Directed by Anubhav Sinha, it features Madhuri Dixit and Juhi Chawla in the lead roles. Talking about Gulaab Gang, Kiran said the film has only derived inspiration from Sampat Pal. However, Gulabi Gang is more real and original. "It (Gulabi Gang) is a documentry and follows the real life events. Sampat Pal herself is there in the film, she has dubbed for the film. She is supporting the film and has travelled the world over with the film," the filmmaker said.

"This is the real story of her real struggle, while 'Gulaab Gang' is a work of fiction and it is inspired from Sampat Pal's life," Kiran added.

Gulabi Gang hits the theatres Feb 21, and Gulaab Gang will release March 7.