Movie review: Boss is all about masala and Akshay Kumar
Hindustantimes.com |
, New Delhi
Sweta Kaushal
Oct 19, 2013 11:48 AM IST
Riding high on the success of films like Rowdy Rathore, Akshay Kumar is expected to entertain the masses with Boss, that also boasts of promising actors like Ronit Roy, Danny Denzongpa, Pankaj Tripathi, Mithun Chakraborty, Johnny Lever and Parikshit Sahni.
Akshay Kumar-starrer Boss releases in theatres today. Riding high on the success of films like Rowdy Rathore, Kumar is expected to entertain the masses with his latest venture. The movie also boasts of promising actors like Ronit Roy, Danny Denzongpa, Pankaj Tripathi, Mithun Chakraborty, Johnny Lever and Parikshit Sahni. Have they met the expectations? Read on.
Anthony D'Souza utilises Akshay's star power to his best in his latest venture Boss. The dialogues are flattering to the actor. Having chosen to watch this movie after watching the trailers, you cannot possibly have expected a thought-provoking experience. This is a typical action-comedy that Akshay carries off with ease - one that entertains the masses.
, "Dammit, I'm moaning about the lack of a plot while writing about an Akshay Kumar film titled Boss - look at my effrontery."
does not think Boss is completely miss-able. Basu writes, "Boss is an exceedingly noisy film and yet is tremendous fun in parts."
The film is a remake of Malayalam film Pokkiri Raja. Script-writers Farhad-Sajid, who have also written the dialogues, may not have presented us with an interesting story but they have given us some witty and sharp lines peppered well with humour.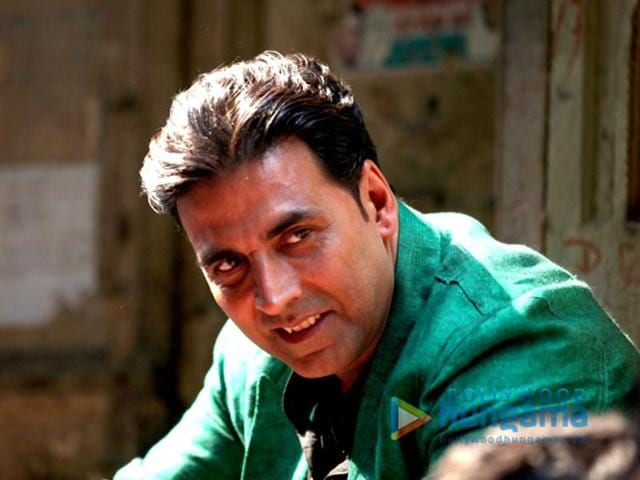 Film critics Subhash K Jha writes for IANS: "Every moment in Boss is a celebration of cinematic conventions derived from decades of Bollywood entertainment."
There are few funny scenes and a few that touch an emotional chord. In a sequence, Satyakant Shastri (played by Mithun Chakraborty) arrives at the doors of Boss (Satyakant's son whom he had abandoned almost several years ago and who has turned into a Robinhood style goon, essayed by Akshay Kumar). When Akshay is told his father has come to meet him, he stands in front of the mirror, combs and puts on a formal blazer over the typical-goon-style black kurta and jeans he was wearing. This one is actually a blend of funny and emotional... it's cute.
In another comic scene, the guards that accompany Boss (Akshay Kumar) everywhere arrange themselves to make a giant sinhaasan (throne) sort of chair for the Big Boss (Boss's mentor and uncle, essayed by Danny Denzongpa). To add to the humour, the guards even make synchronised movements so that Big Boss enjoys the fun of a rocking chair!
"The posters and the promos of the film make it clear that Boss is a
masala
film. And going by the recent trend, for
masala
films, all that's needed is a "filmi" hero, cars flying around and some
nach gaana
. Akshay Kumar looks good and is entertaining; in fact, he is the saving grace of this mindless entertainer."
Mohar Basu couldn't agree more, "The overused plot still manages to solidify simply because of Akshay Kumar's panache that makes the film's pulverizing action so delectable. I am not afraid to point out that the film which I am guilty of enjoying marginally, has only a wafer thin plot to its credit."
The action sequences too have impressed critics. , "The only name that matters in the list of credits is Anal Arasu, the action director who comes up with new ways to bash in people's heads, crush their limbs and contort their bodies beyond recognition."
There are two fight sequences that qualify for special mention for the fun qutient they add to the movie. At one point, Shiv and Akshay (who are brother) are supposed to fight in order to put the enemies off guard. Scared that he may spoil the act, Shiv says he does not know dialogues and Akshay retorts, "
Yai to tum newcomers ki problem hai
." (pun being on Shiv Pandit, who is actually a newcomer with only Shaitaan and Chashme Baddoor)
In another sequence, Akshay accompanies his father and brother (Mithun and Shiv) to a dargah in Delhi (apparently Nizammuddin) and their enemies decide to attack the trio at the dargah. To avoid the father's fury over violence, Akshay needs to fight off the enemies and save his family even as he ensures that the dad does not get to see the blood-shed.
The film has several sequences that are nonsensical and mindless, yet funny - sequences that Akshay carries off wonderfully. Saibal Chatterjee (NDTV): " Boss is Akshay Kumar's film all the way and there are several moments in it when he comes across as perfectly cut out for such antics."
As for the performances, Akshay Kumar takes the trophy but others actors score no less.
Mihir does not like the film but writes, "I can only assume that talented and likable actors like Ronit Roy, Danny Denzongpa, Sanjay Mishra and Mukesh Tiwari had a few mortgage loans pending so when the call came in for a big budget South remake starring 'Akki', they zoomed towards the auditions in an F1 car."
Mohar Basu writes, "Akshay Kumar's spirited performance is the film's singular stronghold and though this isn't amongst his most mesmeric performances, he manages to flaunt his star value with grace and charisma," and adds, "Ronit Roy puts up a zealous performance and though the actor deserved greater screen presence to make his role more lucid but the actor nevertheless matches up Akshay's stature and is grand is every scene!"
Basu, however, thinks that for the heroine, Aditi Rao Hydari, the film was a sheer waste of her talent as she did not have much to do.
: "Aditi Rao Hydari, however, is a complete misfit in this male-dominated landscape. She possesses a natural feminine grace and this film has no space for any such nicety. In one scene, her boorish, misogynistic brother advises the girl to stay indoors and watch television. "Tata Sky has 200 channels," he tells her. "If you, too, have a DTH connection, stay home and watch AXN."
Nandini Ramnath finds Ronit Roy's acting exceptional: "Ronit Roy seems to be making an effort to be serious amidst the clowning. Roy's ability to generate dread, which has already become too pat to be as frightening as it was when first seen in Udaan in 2010, is a wasted effort."
One interesting dialogue Ronit mouths is worth mentioning. The actor says in a sequence: "
Bharosa to mai apne baap ke baap hone ka b nai karta
. (I do not even trust my dad to be my father!)"
Subhash K Jha finds Sonakshi Sinha's appearance interesting: "Sonakshi Sinha shows up twice, once jiving to a zingy Yo Ho Honey Singh number and finally at the end to pay Sridevi an unexpected compliment. Every action sequence is done with virile innovative enthusiasm, thrilling and rugged but never oblivious to the need to lend laughter to the bloodshed."
Going by the analysis of critics, you may not find a serious, intelligent plot but you will certainly have fun watching the gravity-defying fight sequences. As Akshay claimed at a promotional event for the movie, "Boss is one of the best Indian action movies as there are no graphics or VFX that were used. Here, you see real, man to man fight."
Watch it for Akshay's style, comedy and the other actors' performances. Watch it for fun, but if intellectual stimulation if what you are looking for, skip Boss. As Mihir writes, "Boss is one of the most shoddily-directed, pathetically-written and mind-numbingly insipid expenditures of two and a half hours that you'll have subjected yourself to this year."
Twitter buzz:
Amod Mehra : Mentally challenged children are politely called 'God's child'.. and mentally challenged films are politely called... #Boss !!
Shashank Bhamre : ennoyed a lot at the special screening of #Boss.. what a moment it was.. watched it with all the #Akkians.. best experience of my life :)
arps : Dnt fear when #BOSS is here go n watch a complete family entertainer @akshaykumar
Exciting news! Mint is now on WhatsApp Channels
Subscribe today by clicking the link and stay updated with the latest financial insights!
Click here!
Get more updates from
Bollywood
,
Hollywood
,
Music
and
Web Series
along with
Latest Entertainment News
at Hindustan Times.