The art of fiction: There is something occult about writing a book
Jan 28, 2018 07:31 PM IST
Novelists Helen Fielding, Amy Tan, Chika Unigwe, Joshua Ferris and Micheal Ondaatje shared their techniques and approaches to the craft of writing during a session titled The Art of the Novel: On Writing Fiction at the Jaipur Literature Festival on Sunday.
There is no formula to literary success and the journey is different for everyone. Aspiring writers are often advised to read voraciously to understand how others have approached the craft. To have, then, not one or two but five successful novelists discuss their writing process is a rare treat. It's what the audience was treated to at the session entitled The Art of the Novel: On Writing Fiction on Day 4 of JLF 2018.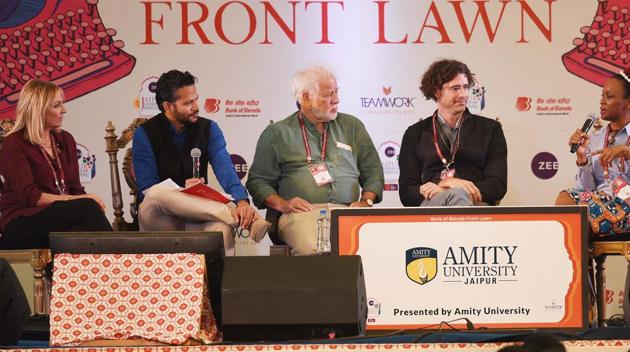 For Jaipur Literature Festival full coverage, click here
Stay tuned with breaking news on HT Channel on Facebook.
Join Now
Amy Tan, author of The Joy Luck Club (1989), said the process of finding her voice in her first novel about Chinese-American mothers and daughters was organic. Her mother's sickness and her fear of losing her framed her book and made it easier for her to write in her mother's voice. "The first book is the easiest," she said as there is no pressure that comes with success and the writing is not self-conscious.
Solid research was a key factor for Nigeria-born American writer Chika Unigwe, who spent a great amount of time interviewing sex workers in Belgium's red-light areas for her book On Black Sisters' Street (2013). "Narratives of sex workers are always narratives of victimhood, but many of those women had agency. I wanted to present that reality truthfully in my fiction," she said.
Micheal Ondaatje said a plot could be approached in two ways — it could be planned or it evolves. "For me it evolves as I work on it and involves a lot of editing and rewriting. I prefer a complex central character and then try and work out the adventure behind the story."
Having had a nomadic childhood, which meant frequently shifting schools and adapting to new environments, helped Amy Tan hone her eye for detail. "When you are oversensitive, you look at nuance and derive meaning from that," she said. "And it shows up in your writing."
A lack of persistence and discipline prevents many aspiring writers from finishing their novels. In response to a question from the audience about developing writing stamina, the panelists revealed their different approaches. While a daily goal-setting and rewarding technique worked for Unigwe, Bridget Jones' creator Helen Fielding said when assailed by self doubt, she reminded herself that she had previously published novels and that she could do it again.
American Joshua Ferris, best known for Then We Came to the End (2007), said he struggled to finish a book for about three years and finally put it away. When he picked it up again, he was able to finish it in a little over three months. "Sometimes there is something occult about writing a book. Some of the best stuff comes out from the subconscious," he said.
While Tan, Ferris and Fielding felt success had made it difficult to write unselfconsciously, Unigwe believes success is a journey as there is no end to ambition. Ferris said that while people thought success was a room you go to and remain in, it was more like a foreign country that an individual could only travel to. "You remain the same person and that is the only way you can write your next work well," he said.
Follow @htlifeandstyle for more