10 Reasons Why You Need a Full Body Check-up
Published on Jan 30, 2023 08:05 PM IST
A complete check-up of the whole body, including the heart, liver, kidney, lung and blood, can save the lives of hundreds of individuals by identifying diseases in their initial stages and reducing the risk of complications during their treatment.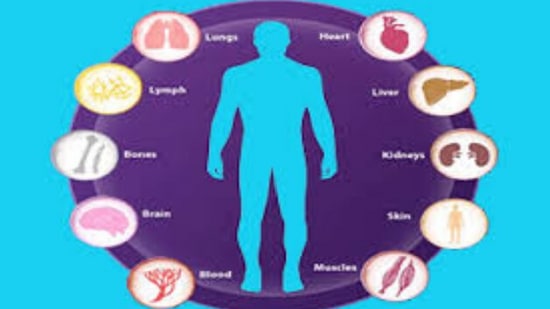 People between 30 and 60 years have a high risk of acquiring lifestyle diseases. Improper balance in your lifestyle, including lack of sleep and strenuous activities, can also lead to developing these health issues. A full-body check-up can help you identify the problems early and increase your lifespan with quick fixes.
A body health check-up is a preventive evaluation of an individual's medical fitness. It assesses the health of different body parts like the lungs, the kidneys, the heart, and the brain to determine future complications and minimise their impact. The following reasons will help you understand the need and importance of these tests.
1. Identification of Diseases
A routine check of your overall health will help you identify the diseases in their initial stages and give you a better chance of preventing or treating them on time. For example, cancer survival rates in stages 1 and 2 are higher than in stages 3 and 4. So, regulating your lifestyle based on your doctor's advice can be a preventive measure once the test results are out.
2. Lowers Additional Healthcare Costs
When a disease worsens with time, treatment typically requires much more attention and even more money. A day of treatment for any condition on a hospital bed can cost thousands. Hence, a complete body check-up should be treated as a requirement, not a choice, as it can help you save money by allowing you a better chance to prevent it.
3. Understanding Genetic Diseases
A complete body check-up can help you pinpoint the common problems between you and your family members. In addition, it allows you to establish a medical history of your family to protect your future generation.
4. Prevents Further Growth of the Disease
A complete body check-up can help detect the probable cause of the problem. Then, by following doctors' advice, the patients can prevent the risk of the disease from spreading further. For example, if your blood tests show a spike in sugar levels, then switching to a healthier, sugar-free diet is the right step.
5. Reduces the Risk of Complications
Once doctors can identify the disease and the problems that it has been causing, it becomes easier for them to treat it. In addition, controlling a disease in its early phase can reduce it from worsening and getting more complicated. Hence, full body checkups prevent all the confusion that may arise during treatment.
6. Identifies Stress-Related Issues
The fast-paced nature of contemporary society can lead to an imbalance in the lives of many individuals, resulting in stress and anxiety taking hold of their bodies. Scheduling regular comprehensive medical examinations can help identify various illnesses associated with stress. Obtaining an accurate diagnosis will facilitate getting the necessary treatment.
7. Reduces the Risk of Getting Sick Frequently
A healthy body with good immunity can fight off basic health issues such as fever, cough and cold. A full-body check-up can help you confirm your body's fitness and immunity levels. In addition, a properly functioning body is unlikely to attract minor diseases.
8. Improves Your Health Awareness
A complete check-up makes you aware of your health and enables you to take charge of your actions that might be causing issues. It will prevent you from taking your health for granted and encourage you to get these tests conducted periodically. It will also encourage you to adopt a healthier lifestyle to maintain good health.
9. Keeps a Tab on Your Vitals
An individual's blood pressure, pulse rate, body temperature and respiration rate are the primary indicators of health. They help detect or monitor medical problems. A complete body check-up in a medical setting or a hospital will enable you to keep a tab on them.
A complete body check-up will optimise your wellness score. It recognises every problematic symptom your body is depicting. Therefore, it is prudent to book a full body check-up through Apollo 24|7.
Disclaimer: This article is a paid publication and does not have journalistic/editorial involvement of Hindustan Times. Hindustan Times does not endorse/subscribe to the content(s) of the article/advertisement and/or view(s) expressed herein. Hindustan Times shall not in any manner, be responsible and/or liable in any manner whatsoever for all that is stated in the article and/or also with regard to the view(s), opinion(s), announcement(s), declaration(s), affirmation(s) etc., stated/featured in the same.