HT City Crowns Of Delhi: Names Etched In Gold
Jan 30, 2023 07:03 PM IST
HT CITY CROWNS OF DELHI felicitation ceremony will spotlight the top achievers of the capital by crowning them under various categories. These most coveted of honours will be awarded by the nation's most popular media house, HT, to the crème de la crème of the capital's living legends
Award Nights are always exciting. But few are looked forward to as much as the HT CITY CROWNS OF DELHI felicitation ceremony that will spotlight the top achievers of the capital by crowning them under various categories. These most coveted of honours will be awarded by the nation's most popular media house, HT, to the crème de la crème of the capital's living legends.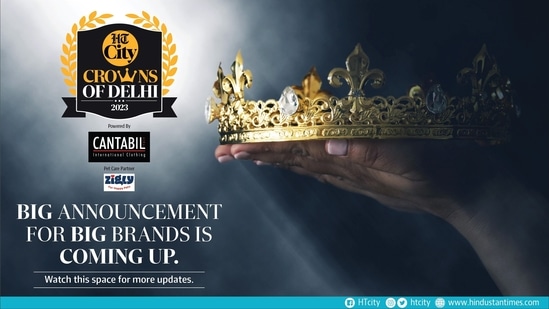 After all, success they say, is 10 percent inspiration, and 90 percent perspiration. So, while there may be any number of people who have ideas and dreams, only those who have the passion and perseverance to nurture their ambitions with their sweat and toil, make it to the top. And those who reach the top, deserve to wear the crown!
And so, the awardees of the HT CITY CROWNS are selected entities – individuals as well as brands – from a variety of fields: Decor, Fashion, Interiors, Architects, Real Estate, Lifestyle, Tech, Hospitality, F&B, Home Chefs, Manufacturers, Personal Care, Jewellers, Pet Care, Groceries, Lighting & fans, Hardware, Florists, Caterers, Furniture, Footwear, Education, Beauty, Hair & Make Up and many more.
What they all have in common is their 'never-say-die' spirit that has carried them through their own challenging times, to scale uncharted heights of human and corporate accomplishment and emerge as stalwarts, not only in India, but often overseas as well. And HT CITY DELHI seeks to salute this spirit at the Felicitation Ceremony on Monday, 20th February 2023 at the Hyatt Regency, Bhikaji Cama Place.
Graced by the presence of Bollywood star, Raveena Tandon, along with a bevy of glitterati – eminent personalities from a variety of fields and Page 3 socialites – the HNI event hosting more than two hundred guests is one of the most feted events in the capital's social calendar.
"It's a real high, being at such a prestigious event," delightedly exclaims Siddharth Ahluwalia one of the VIP invitees. "I'm so looking forward to rubbing shoulders with the Who's Who of Delhi's high society."
With all eyes on this day, this event is expected to be one of its kind event. So, let's get the countdown to the event rolling.