HT City Crowns Of Delhi – Showcasing Achievement- Cantabil & Zigly
Updated on Feb 06, 2023 07:26 PM IST
The 'Greats' of our times are justly deserving of the honours they receive and HT CITY Delhi, through HT CITY CROWN OF DELHI felicitation ceremony, wishes to spotlight and celebrate their achievements. Two of the names that instantly come to mind are Clothing retail giant, Cantabil, and Zigly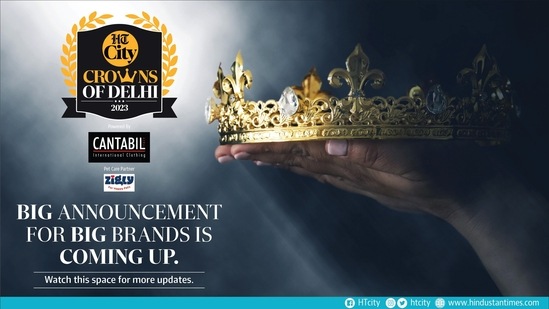 As HT CITY Delhi gears up to crown the capital's 50 top corporate trailblazers, we bring you glimpses of the extraordinary brands and extraordinary people who have scripted their own lives and endeavours, to stand out as shining examples of what bold initiative, coupled with passion and perseverance can accomplish.
These 'Greats' of our times are justly deserving of the honours they receive, and much more, and HT CITY Delhi, through its HT CITY CROWN OF DELHI felicitation ceremony, wishes to spotlight and celebrate their achievements. Two of the names that instantly come to mind in this context are Clothing retail giant, Cantabil, and Zigly, pioneers in comprehensive pet services – an initative from the packaging and films major, Cosmo First.
Two widely different players who are game changers in their own ways. The common thread that binds them is their vision that led them to path-breaking initiatives, which they drove to success with their self-belief and determination. Adopting technology to drive their marketing endeavours and forge a personalised connect with their customer base is also something that the two brands have in common.
While Cantabil is a market veteran that keeps morphing organically in response to market and consumer realities, Zigly is a relatively new initiative from a venerable entity, addressing a need gap. Thus both, in their own ways, are completely focused on the needs of their clientele, - a sterling quality that has propelled both brands to ever new heights.
The saga of Cantabil encompasses more than two decades of dominating the ready-to-wear apparel market in the national capital region. The brand currently has a network of 400+ exclusive retail outlets and offers its customers the complete range of formal-wear, party-wear, casuals and ultra-casual clothing for both men and women.
Zigly, on the other hand, is India's leading digital-first Omni-channel retail and services platform that offers pet parents a comprehensive range of pet care products such as food, nutritional supplements, hygiene products, accessories and toys, along with services ranging from vet care to grooming and training.
Deepak Bansal, whole-time Director at Cantabil is the mastermind responsible for ably responding to the exigencies of the pandemic by foraying into customized consumer engagement as well as the O+O (online plus offline) model of marketing. In response to the new market realities with the new, post-Covid generation of consumers, the company is focusing heavily on providing the best-in-class shopping experience both in-store and in the online space, moving towards targeted, customized cross-channel engagement for consumers.
In the same vein, Zigly, under the expert guidance of Mrs. Yamini Kumar Jaipuria, is operating on a tech-enabled integrated ecosystem through the Zigly App and website, thus serving as a platform for pet families looking for quality, affordable and standardized pet care, and simultaneously providing equitable income opportunities for people who have chosen pet care as a profession. With an already extensive presence in Delhi NCR through its experience centers and on-the-go grooming vans, Zigly has plans to expand to several other tier 1 cities in the next six months.