Brexit will affect automakers, but aftermarket mostly stable: Messe Frankfurt
Mar 23, 2017 04:31 PM IST
Messe Frankfurt in association with ACMA has organised third edition of ACMA Automechanika New Delhi, an exhibition of the automotive aftermarket manufacturers that kicked off on Tuesday.
Automakers in the UK will be affected by Britain's divorce from the European Union, according to leaders from the automotive aftermarket industry.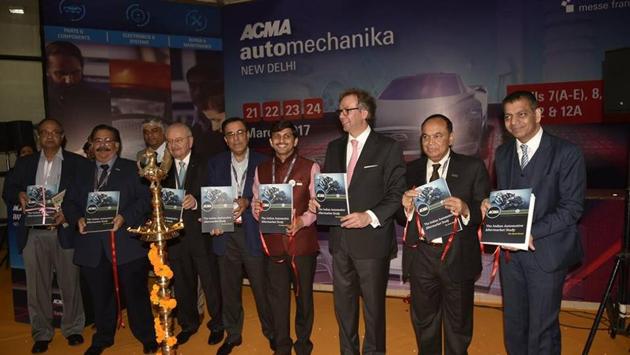 "Brexit will affect those automakers who are sitting inside the UK and exporting out. There will be a potential cost, and then they will have to decide whether it's safe to remain in UK and do I need to be somewhere else," Raj Manek, managing director of Messe Frankfurt Trade Fairs India, said on Tuesday.
At the third edition of ACMA Automechanika, an exhibition of the automotive aftermarket manufacturers, that was held in New Delhi, Manek said, "For example, BMW has three-four different components done in the UK factories. The BMW engine is produced in UK, and the British government would not want them to leave. So if there's more tax on BMW to export that engine to Europe, they will reduce the corporation tax in Britain, so for BMW it would remain the same."
"But the full impact of all this would be on the residents of UK, because the revenue coming in the pot for healthcare, roads, etc., will be affected. The UK government will do everything it can to restore businesses," said Manek.
"But automakers are going to wait and watch for policies to be framed," said Michael Johannes, vice-president of Messe Frankfurt Exhibition GmbH. "There are so many questions and the manufacturers make a decision only when there is an answer."
"The aftermarket will be mostly stable. But this kind of uncertainty is not good for business," he added.
On President Donald Trump's threats over imports from Mexico to the US, Manek said, "Once Donald Trump starts seeing both sides of the coin, he'll realise that for something or the other, he'll need people from outside of the US, he'll need immigrants. Americans can't make everything themselves."
When asked whether India is rising in automotive sector to take on China, Manek said, "With initiatives like Make in India, the disparity between China and India in the manufacturing sector is decreasing. Over the next two-three years, you'll see more and more FDI coming to India and that disparity becomes lesser. That's when we can say India is a tough competitor for China."
"You've good volumes in India," said Johannes, "but in comparison to China, they're smaller."
"You've more cars here, you have bad streets and yet the age of cars on roads here is more. So you need more spare parts, you need more maintenance and thus there are more international companies from coming here."
Automechanika is an international automotive trade fair organised by German exhibition company Messe Frankfurt. It is held in India biennially in association with Automotive Components Manufacturers Association (ACMA). The expo has grown from 436 exhibitors in 2015 to more than 550 exhibitors from 17 countries.
"Exciting news! Hindustan Times is now on WhatsApp Channels
Subscribe today by clicking the link and stay updated with the latest news!"
Click here!