Why Tesla boss Elon Musk's exit from Trump advisory council is good business sense
Jul 13, 2017 11:39 PM IST
Tesla founder Elon Musk's decision to quit President Donald Trump's business advisory councils is beyond environment and humanity; it's business.
Elon Musk would arguably be the most anxious man in the world right now.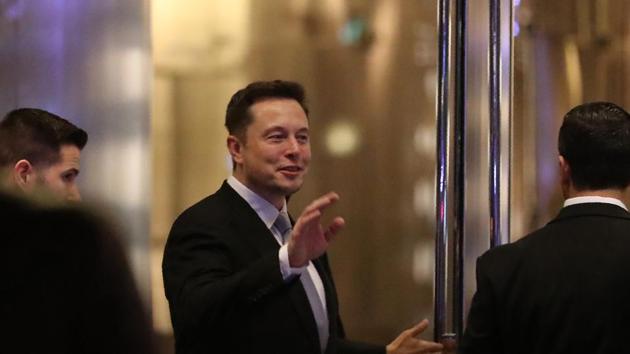 His single-handed efforts to save the planet (even Apple top brass are saying so) are meeting constant hurdles in whatever "sci-fi" ventures he's headed till date -- SpaceX mission to reuse space rockets and civilise planet Mars, to connect brains with artificial intelligence technology using Neuralink, to benefit humans from artificial intelligence by developing technologies with OpenAI and speeding eco-friendly transportation across the world via Tesla Motors and Hyperloop.
So on Thursday when Donald Trump pulled US out of the Paris climate summit deal, Musk vacated his seat at the president's advisory table.
Rober Iger, the CEO of The Walt Disney Company, soon followed the suit.
The Paris Accord is the world's first comprehensive climate agreement, signed in November 2016 by 195 members of the UN Framework Convention on Climate Change, to mitigate greenhouse emissions and bring down global warming.
Donald Trump has repeatedly tweeted from frozen corners of the US since 2013-14, saying "Global warming is a total, and very expensive, hoax!" and "I believe in clean air. Immaculate air.... But I don't believe in climate change".
But Musk's views on cleaner energy and minimal emissions are a complete contrast, along with a hundred million other Americans who may or may not have voted Trump to power.
Stakes for Tesla are at an all-time high as its first electric car for the masses -- the Model 3 -- goes to production and then sale in the second half of 2017. Another highly anticipated product from the Tesla stable, Solar Roof, was launched last month and well received.
Both these products, unlike his other ventures such as SpaceX, Neuralink and OpenAI, are targetted at the middle class Americans. And Musk knows that not speaking up now may hurt the Tesla books as it did when Trump entered White House in late January.
When Musk became one of the 18 business leaders to join Trump's chief business advisory council, known as the Strategic and Policy Forum, many Americans cancelled their Tesla Model 3 bookings, citing Musk's connections with the Donald.
Though a few cancellations in more than 4,00,000 registrations may not matter much, the bad press it attracts does.
Elon also has other reasons to worry.
His mass-market Model 3, expected to go to production in July, has already begun cannibalising sales of the more premium Model S.
Both Tesla and a worried Musk have repeatedly pitched the Model S as a superior make, in an attempt to arrest the fall of sales month after month. Supporting or silence over Trump's controversial and widely criticised move will only damage Tesla and Musk.
In an investor call last month, Tesla said it has enough cash as Model 3 goes to production. In 2016, Tesla sold 76,230 electric cars, missing its target of at least 80,000 vehicles, while GM and Ford sold 10 million and 6.7 million cars respectively.
Yet, Tesla has already surpassed Ford and General Motors' market capitalisation, even triggering debates about whether Detroit or Silicon Valley will lead the industry in future.
All eyes are on Musk's Model 3 meeting its sale deadline, and whether it can meet the annual production estimate of 500,000 cars in next year.