Adani Group lost $108 billion in a week: 'Headlines generating negative attention'
Feb 03, 2023 07:44 AM IST
Since the allegations were made by Hindenburg Research, several financial institutions from New York to London and Tokyo have dissected their exposure to Gautam Adani, ranked no. 2 among the world's wealthiest.
Gautam Adani, the multi-billionaire, is battling the worst crisis of his corporate life. Since the Hindenburg Research report on January 24, accusing the Adani Group of stock manipulation and accounting fraud, it has lost $108 billion in market value, Bloomberg reported.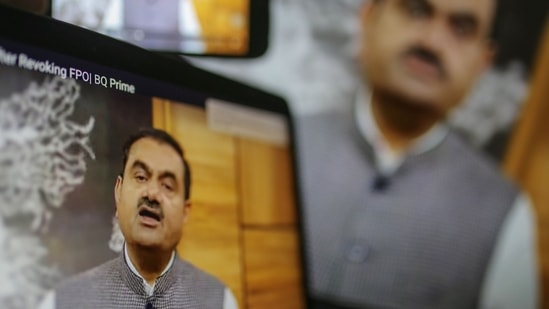 Since the allegations were made, several financial institutions from New York to London and Tokyo have dissected their exposure to Adani, once ranked no. 2 among the world's wealthiest.
Worst nightmare for Adani Group:
> Since Hindenburg's report on January 24, Adani Group companies have lost nearly half their combined market value. Adani Enterprises - described as an incubator of Adani's businesses - has lost $26 billion in market capitalisation.
> Adani Enterprises shares tumbled 27 per cent on Thursday, closing at their lowest level since March 2022.
> Other group companies also lost further ground, with 10 per cent losses at Adani Total Gas.
> Adani Green Energy and Adani Transmission, while Adani Ports and Special Economic Zone shed nearly 7 per cent.
> The turmoil has not only hammered Adani Group shares but is also hitting banks that have given loans to the companies. The State Bank of India has tumbled 11 per cent since the Hindenburg report came out.
> Foreign institutional investors pulled a net $2 billion out of India's stock market from the country on January 27 through January 31, according to data compiled by Bloomberg.
"The Adani-related headlines are generating a high level of negative attention, which could dampen investor appetite for Indian stocks," Bloomberg quoted Jian Shi Cortesi, a fund manager at Zurich-based GAM Investments which oversees more than $80 billion in assets, as saying.
"While we don't see Adani dragging down the whole Indian stock market, we think this could lead to India underperforming other Asian markets such as China," he added.
Bloomberg also reported that Citigroup's wealth unit has stopped accepting securities issued by Adani companies as collateral for margin loans after "negative news around the group's financial health" led to dramatic price drops. Credit Suisse's private banking unit had also made a similar change for the bonds.
Mizuho Financial Group Inc.'s securities division had past dealings with Adani and is examining the allegations being levelled against the conglomerate, the unit's chief executive officer Yoshiro Hamamoto told reporters in Tokyo on Thursday. Mizuho Securities has managed debt issuance by Adani companies, public documents show.
Adani rejects allegations
While Adani's company has rebutted the claims and the billionaire himself said in a video speech on Thursday that the cancelled equity offering will have no impact on operations, the selloff shows no signs of abating.
Opposition agrees on jointly raising Adani issue
On Thursday, opposition parties agreed to jointly raise the issue of allegations of fraud against the Adani Group in Parliament but were yet to agree on the mode of inquiry into the Gujarat-based corporate major.
At a meeting of like-minded political parties convened by Congress president Mallikarjun Kharge, there was a general agreement on raising the Adani issue vigorously in both the Houses and force the government to take up the discussion on the Motion of Thanks on the President's Address from Monday.
(With inputs from Bloomberg, Reuters, PTI)