Ahead of Budget 2023, 'Halwa' ceremony to be held tomorrow | All you need to know
Jan 27, 2023 09:37 AM IST
After the ceremony, ministry officials and staff involved with the preparation of budget, enter a 'lock-in' period.
The traditional 'Halwa' ceremony, that takes place ahead of the presentation of the annual February 1 Union budget, will be held on January 26, the ministry of finance said on Wednesday.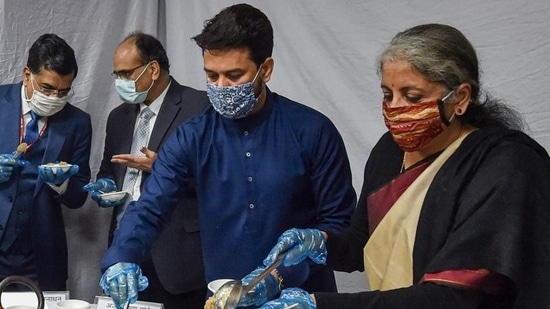 Click here for full coverage on Budget 2023
"The Halwa ceremony, marking the final stage of the Budget preparation process for Union Budget 2023-24, will be held for tomorrow in the presence of Union Finance & Corporate Affairs Minister Smt. @nsitharaman, in the Budget Press situated inside North Block," the ministry said in a tweet.
"Along with the Union FM, the Halwa ceremony will be attended by the Union ministers of State for Finance, along with Secretaries of the Ministry of Finance @FinMinIndia besides senior officials and members of the Union Budget Press," it added.
What is 'Halwa' ceremony?
The ceremony is a 'send-off' for ministry officials and staff involved with the preparation of the Union government's annual financial statement. They enter what is called a 'lock-in' period, during which they stay inside the ministry, cut off from their families, to maintain the secrecy around the final budget document.
Also Read | Union budget: How govt prepares annual financial statement?
They leave the North Block, which houses the finance ministry, after the budget is tabled by the finance minister, in Lok Sabha, on February 1.
What happens at 'Halwa' ceremony?
The finance minister opens the ceremony by stirring the 'halwa' in a kadhai (large metal pot). Last year, however, it was curtailed due to the Covid-19 pandemic, and the staff were served sweets instead.