'Jakhar as future CM': Capt Amarinder Singh plays Hindu card in star-struck Gurdaspur
May 13, 2019 10:44 PM IST
With history of no Hindu chief minister, Captain tries to woo the community in Gurdaspur where it has a dominant presence
In a state with Sikh majority, Punjab chief minister Amarinder Singh on Saturday played the minority card by declaring Gurdaspur candidate and state Congress chief Sunil Jakhar, a Hindu, as the future CM. Born out of movement to segregate Punjabi speaking areas, Punjab has never had a Hindu as CM. They make nearly 38% of the state's population while Sikhs are 57%.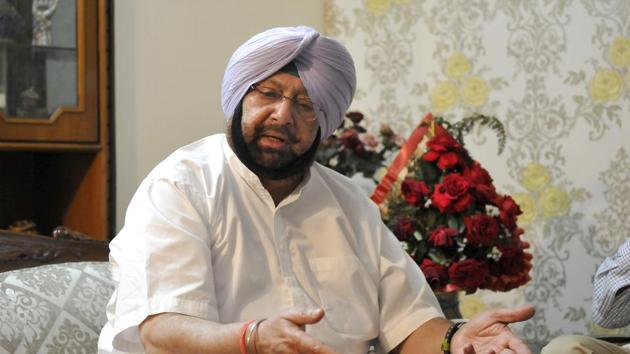 The BJP had queered the Congress pitch in the border district by bringing 'Border' hero Sunny Deol to fight Jakhar. The saffron party is banking on Hindu votes and star power of Deol, a Jat Sikh, who like Jakhar, is an outsider. Jakhar hails from Abohar in Ferozepur district.
The Balakot airstrikes narrative of Prime Minister Narendra Modi is resonating in the border seat. With dominant presence in six out of nine assembly segments, Hindus outnumber Sikhs in Pathankot, Sujanpur, Dinanagar and Bhoa, where Amarinder made the announcement. The two communities are equally poised in Batala, while Hindus make a sizeable 40% of voters in Gurdaspur.
The remaining three segments -- Dera Baba Nanak, Fatehgarh Churian and Qadian are Sikh dominated. Amarinder has tried to strike surgically at the main votebank of the BJP in Gurdaspur, but its ripples will be felt across Punjab which goes to polls in the last phase on May 19.
But in doing so, the CM has upped the stakes of the game for Jakhar, too, by telling people of Gurdaspur that they will be choosing a future CM not just the MP. However, it may cut both ways –it could help the party win over Hindus leaning towards BJP, but may alienate Jat Sikhs who may not take too kindly to Captain's poll gambit. It may also ruffle feathers of jails minister Sukhjinder Singh Randhawa, a claimant to chief ministership, who is the main force behind Jakhar's campaign and gave him the biggest lead from his seat, Dera Baba Nanak, in the 2017 bypoll.
The timing of Captain's stroke is as critical as the place. Party leaders in the know of developments say the 77-year-old CM has also sensed that the succession game will only intensify post poll verdict. There is a ready claimant in Punjab local bodies minister Navjot Singh Sidhu who enjoys confidence of Congress president Rahul Gandhi and his sister and party general secretary Priyanka Gandhi Vadra.
"Amarinder has, in a way, shown his hand by hinting who he wants as his successor. Jakhar carries the legacy of former Lok Sabha speaker Balram Jakhar and enjoys proximity to Rahul," a senior Congress MLA said.
But Jakhar said what the CM meant was he was competent. "He called me a straightforward, hardworking and well-meaning person. He meant I have what it takes to be the CM. But I am more than content with my job. There is no vacancy on CM's post."
Jakhar: Respect Dharmendra's sentiment
Reacting to actor Dharmendra's statement that he would have advised Sunny not to contest from Gurdaspur had he known he was to fight his friend Balram Jakhar's son, Jakhar said he respects Dharmendra's sentiment.