Alwar lynching: Activists slam govt, cops for clearing 6 men named by Pehlu Khan
Sep 14, 2017 04:25 PM IST
The Rajasthan Police have closed the probe against six men named by Pehlu Khan in his dying hours.
Activists and civil society members have criticised the Rajasthan government and police for closing a probe against six people named by dairy farmer Pehlu Khan, who died two days after alleged cow vigilantes attacked him in April.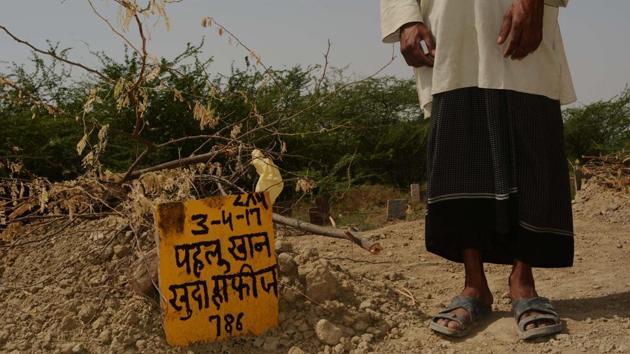 As reported by Hindustan Times on Thursday, police have given a clean chit to the six men, three of whom are linked to Hindu right-wing organisations, based on the statements of the staff of a cow shelter and mobile phone records.
The move was deeply condemnable and shocking but not unexpected, CPI (ML) Politburo member Kavita Krishnan said on Thursday.
"It is expected because the home minister and other ministers of the Rajasthan government were handing out clean chit to the accused even before the investigation had begun," she said.
The Supreme Court that had asked states to appoint a nodal officer in each district to prevent violence in the name of cow should also monitor probe into all lynching incidents, Krishnan said.
There was a pattern to the investigations in recent lynchings, author-activist Harsh Mander said.
"A pattern emerges in every case of mob hit violence in the country wherein the police almost always treat the victim as if they are somehow the guilty party and do all they can to protect the accused," he said.
The system of cross-case often ended up denying justice to the aggrieved party. "If the police are forced to lodge an FIR against the accused, they also file cross-cases against the victim. It's outrageous that those six people have been let off," Mander said.
Khan was transporting cows from a market in Jaipur to his home in Nuh, Haryana, when he was lynched by alleged cow vigilantes near Alwar on April 1, one of many attacks on Dalits and Muslims by self-styled cow protectors.
Khan had the permit to transport the animals.
On September 1, the crime investigation department-crime branch that was looking into Khan's killing asked Alwar police to remove the six people from the list of accused.
Khan's family members say they heard the accused call each other by their names during the attack.
The six men were the ones who launched the assault. "As we were being thrashed, I heard them call each other's name," Irshad, Khan's son who was injured in the attack, told HT.
Om Yadav (45), Hukum Chand Yadav (44), Sudhir Yadav (45), Jagmal Yadav (73), Naveen Sharma (48) and Rahul Saini (24) are the men who have been cleared. Proceedings will continue against nine others who were identified from the video of the attack.
"Exciting news! Hindustan Times is now on WhatsApp Channels
Subscribe today by clicking the link and stay updated with the latest news!"
Click here!