Bengaluru: After cats on bikes, a dog takes ride on car roof | Video
Feb 03, 2023 11:38 AM IST
A video of a dog travelling on a Bengaluru road on top of a car is igniting a fresh debate on road safety and animal abuse.
A video of a dog travelling on top of a car on a Bengaluru road has left the internet in anxiety. This comes after a video of a man - taking his cats on a bike ride with no safety harness on - went viral recently, igniting a debate on animal safety.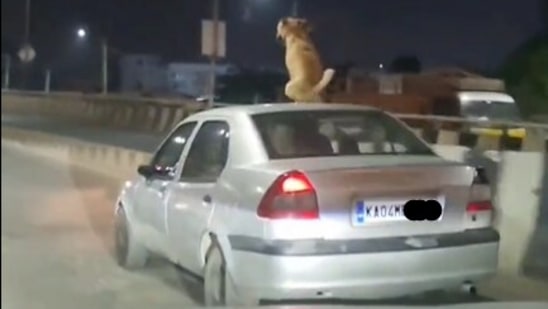 The clip, which has over 35,000 views at the time this article was being written, was shared on social media by several handles, on of whom captioned it "Just Bengaluru things". Hindustan Times could not independently verify the video, however, it showed a collared dog standing on top of a moving car, before perching on the car roof.
The video prompted sharp reactions by Twitter users, who criticised the driver of the car for putting the dog in danger. "What concerns me is that the dog is collared, which means they probably own the dog and have placed it on top of the car. Posing a hazard on the road and to the traffic," a reply said.
Several said that the stunt is "not funny at all" and that it "should not be encouraged".
"He can be booked by PETA," another social media user responded.
READ | 'Catman': Video of biker with cats is viral; Here's what the internet says
"Car number is viable. Person has to be warned by the police. @BlrCityPolice He is putting the dogs life in danger," a tweet read.
Many users tagged Bengaluru police and traffic cops, demanding that action be taken against the driver. "Definitely wrong thing to do. Just because an animal cant speak doesnot give us any right to put the animal in risky situations ....the car driver must be suitably advised," one comment said.
"@CPBlr @BlrCityPolice can u plz take action against this guy?? This is cruel to treat a animal like that," another replied.