Chandigarh: Glittering start to MS Randhawa Memorial Festival
Feb 03, 2023 12:12 AM IST
Writers and artists of Punjab, who have made significant contributions, were honoured with Punjab Gaurav Samman on the occasion; among them were Puranchand Wadali (singer), Anupam Sud (print maker), Babu Singh Maan (song writer), Shannon Khurana (theatre director), Manmohan Bawa (writer), Om Prakash Gaso (writer), Swarajbir (writer) and Sidharth (painter)
The five-day MS Randhawa Memorial Cultural Festival got a glittering opening at the Punjab Kala Bhawan in Sector 16 on Thursday evening.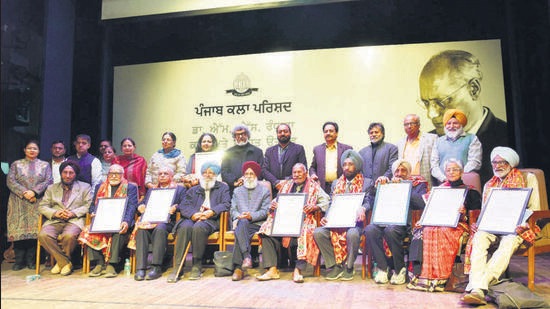 The function began with tributes to Randhawa, the founder chairperson of the Punjab Arts Council.
Writers and artists of Punjab, who have made significant contributions, were honoured with Punjab Gaurav Samman on the occasion. These included Puranchand Wadali (singer), Anupam Sud (print maker), Babu Singh Maan (song writer), Shannon Khurana (theatre director), Manmohan Bawa (writer), Om Prakash Gaso (writer), Swarajbir (writer) and Sidharth (painter).
Filmmaker Harjit Singh's film "Imroz", dedicated to the memory of poet Amrita Pritam and painter Imroz, was screened on the occasion. A film on Nandlal Noorpuri, a famous poet and lyricist, was also screened.
The festivities will continue till February 6 with daily performances by folk artistes from 11 am onwards. The grand finale will feature a show by the group of Gurcharan Singh Channi, a city-based theatre person who passed away amid the Covid-19 pandemic.