Graft charges on Ludhiana RTA secretary: Home Guard not named as accused by Vigilance
Jan 09, 2023 11:38 PM IST
Vigilance has, however, named seven accused in the FIR, including Ludhiana RTA secretary — who had been on January 6 arrested for running an organised criminal racket collecting money as bribes
Homeguard volunteer Bahadar Singh, who was rounded up by the Vigilance Bureau after the arrest of secretary Regional Transport Authority (RTA) Narinder Singh Dhaliwal, has not been named as an accused in the case.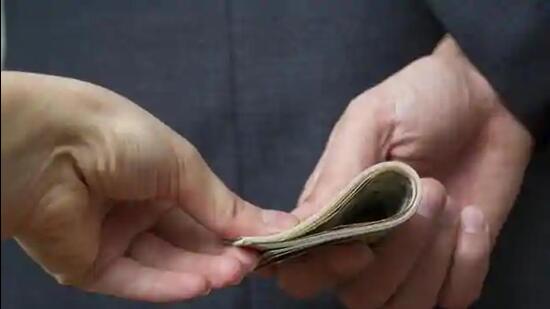 Vigilance has, however, named seven accused in the FIR, including Dhaliwal — who had been on January 6 arrested for running an organised criminal racket collecting money as bribes from transporters.
Others booked in the case are Lucky of Ishar Nagar Ludhiana, Mandeep, and owners of five transport companies – including Sukhi Transport of Gobindgarh, Puri Transport of Khanna, Atal Fauji Transport of Khanna and Hero Transport of Gobindgarh.
Senior Superintendent of Police (SSP, Vigilance Bureau) Ravinder Pal Singh Sandhu said Bahadar Singh's role is still under probe, but, as of now, he is a witness. A video showing his involvement had secretly been recorded by the complainant Satnam Dhawan, a right to information (RTI) activist — following which he was called for questioning and confessed to collecting bribes on behalf of the RTA. He has also produced ₹2.3 lakh which the RTA gave to him for safekeeping.
Hailing from Moga, Narinder Singh Dhaliwal, is a 2014 batch PCS officer. Earlier he was posted as sub-divisional magistrate (SDM) in Jagraon.
The FIR was lodged against him following a complaint lodged by Satnam on the anti-corruption helpline in November 2022. It said Dhaliwal was found collecting bribes through private persons from transporters on a monthly basis on the pretext of not issuing challans of their vehicles.
The FIR was registered on the basis of video clips secretly recorded and submitted by the complainant. During the probe, it was found that in December, Bahadar Singh had collected a bribe of ₹4 lakh from transporters on behalf of Dhaliwal, who allegedly kept ₹1.7 lakh of the total amount with himself.
Bahadar Singh confessed to collecting bribes ranging from ₹3-6 lakh every month and giving it to Dhaliwal. The FIR mentioned that Dhaliwal used to collect the money from transporters whose vehicles ran illegally in the Ludhiana district. While he has been arrested, the other accused remain at large.