Himachal: Shanta Kumar bats for 'one nation, one election'
Nov 26, 2022 10:46 PM IST
Veteran BJP leader Shanta Kumar says all political parties remain entangled in the poll process and spend crores during the elections, which are held in one or the other state every year
Veteran BJP leader Shanta Kumar on Saturday batted for 'one nation, one election', saying that it would save billions of rupees and give time to the government to channel its energy towards real issues.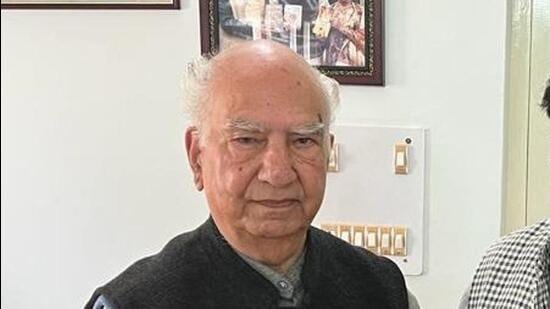 Kumar, a former Union minister, in a press statement said, "All political parties remain entangled in the poll process and spend crores during the elections, which are held in one or the other state every year."
He said this year, there are elections in Gujarat and Himachal Pradesh and about ₹500 crore is being spent in the small state like ours alone.
"Next year, 10 states would go to polls and in 2024, assembly elections will be held in seven states, besides the Lok Sabha polls," Kumar said.
The former two-term chief minister of Himachal also said that the 'Loktantra' in India has been reduced to 'Chunavtantra'.
"Such things don't happen in other democracies of the world," he said.
He said that Prime Minister Narendra Modi had also talked about 'one country, one election' and it was high time that the law is amended and implemented at the earliest.
The 88-year-old BJP leader suggested that elections from panchayat to legislative assemblies and Lok Sabha must be held once in five years and process should be completed in three months' time.
If any seat falls vacant due to any reason, he said, the candidate who stood second in the election should be declared elected and provision of bypoll should be done away with.