Kejriwal, Mann lead grand road show in Amritsar
Mar 14, 2022 12:48 AM IST
Addressing the gathering, Mann invited people to attend his swearing-in ceremony at the ancestral village of freedom fighter Bhagat Singh and take a pledge for the holistic development of the state and betterment of its people
Riding high on AAP's landslide victory in Punjab elections, CM-elect Bhagwant Mann on Sunday gave a clarion call to people to attend his swearing-in ceremony at Khatkar Kalan village on March 16, as he led a grand road show along with party's national convener Arvind Kejriwal here, thanking the masses for giving them a huge mandate and not falling prey to nefarious designs of the opposition parties.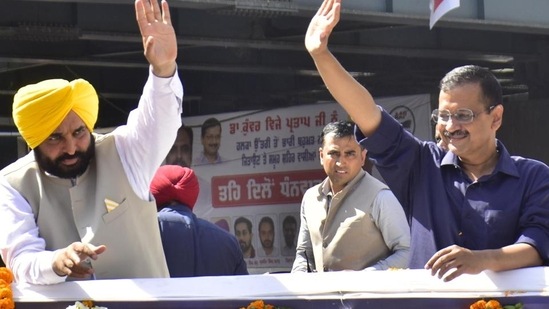 A humongous crowd gathered for the road show "Dhanwad Punjab Yatra" that took place from Court Chowk to SSSS Chowk on Mall Road in the holy city. Before embarking for the show, Mann and Kejriwal paid obeisance at the Golden Temple and other important religious landmarks in the city.
Addressing the gathering, Mann invited people to attend his swearing-in ceremony at the ancestral village of freedom fighter Bhagat Singh and take a pledge for the holistic development of the state and betterment of its people.
He said that his party has broken the tradition of taking the oath at Raj Bhawan and the move was primarily aimed at paying glowing tributes to the great martyrs.
Expressing gratitude to the people, Mann said that all the political parties were hand in glove to make the next government and underestimated AAP, but the unity of people rejected their nefarious designs with a huge mandate of 92 seats in the party's favour.
He said that his government would start functioning from the very first day to fulfil the aspirations of people, who have reposed full faith and trust in AAP's policies and programmes.
Mann said that after withdrawing the security of 122 political leaders in the state, as many as 403 security personnel are back to serve in the police stations along with 27 police vehicles. He said these police personnel would work in the police stations to discharge duties related to law & order only.
He also ridiculed the previous governments for befooling the people by asking them to hold thikri pehras (night vigil) in villages and mohallas, while they were keeping their security intact.
Kejriwal hails people of Punjab
During the road show, Kejriwal said that Punjab has got an honest chief minister after a long time, who would ensure a clean and transparent government.
"If any minister and MLA of his party indulged in malpractices, he would not be spared and sent to jail. Kejriwal further said that it was an established fact that Punjabis are known for ushering in revolution and they have really done so," he said.
Hailing the people of Punjab, Kejriwal said, "Tusin Kamaal Kar Ditta hai (you have done wonders), I love you Punjab'' as the stalwarts from Akali Dal & Congress, including outgoing CM Charanjit Singh Channi have faced defeat.
Reiterating their commitment of making a vibrant Punjab free from corruption, he said, "from now onwards, every single penny from the state exchequer would be spent on peoples' welfare, besides all the promises would be fulfilled".
AAP leaders get rousing welcome
Holding placards and the national flag, people thronging the roads gave a rousing welcome to Mann and Kejriwal by showering flower petals and raising slogans of 'inqlaab zindabad, Bharat Mata Ki Jai & Bole So Nihaal…' with enthusiasm. Patriotic songs also played in the background.
Mann and Kejriwal were riding in a flower-decked open vehicle, while rest of the MLAs were following them in two different trucks.
Due to the rush from the procession, unprecedented traffic jams were seen on the city roads.
SGPC honours Mann, Kejriwal at Golden Temple
Earlier in the day, Shiromani Gurdwara Parbandhak Committee (SGPC) felicitated both Mann and Kejriwal on the premises of Golden Temple. The Golden Temple chief manager Gurinder Singh presented them with a 'siropa' (robe of honour), a set of books on Sikhism and a replica of the shrine.
They also paid obeisance at Ram Tirath Temple and Durgiana Temple, besides paying tributes to martyrs at Jallianwala Bagh national memorial. Senior AAP leader and deputy chief minister of Delhi Manish Sisodia, MLA and Punjab affairs in-charge Jarnail Singh, MLA and Punjab affairs co-in-charge Raghav Chadha and many of the newly elected MLAs, senior leaders and volunteers also accompanied them.
Government buses used to ferry people
Buses of PRTC and Punjab Roadways were used to ferry people from across the state to Amritsar for the road show, triggering criticism from people who faced inconvenience due to their non-availability.