Ludhiana Central Jail: Amid severe staff crunch, cases of clashes among inmates rising
Jul 26, 2022 01:03 AM IST
In the past 10 days, four incidents of clashes between inmates of Ludhiana Central Jail; In a recent case, two men accused of hacking a 15-year-old boy to death in the emergency ward of Ludhiana civil hospital were assaulted by a group of inmates
Amid repeated incidents of clashes between inmates in the past few days, the staff of Ludhiana Central Jail is planning to shift some of them to other facilities.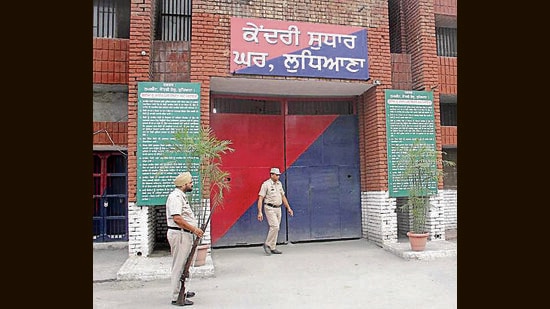 In the past 10 days, four such incidents have been reported. Jail officials said such incidents have been rising due to severe staff crunch. According to jail officials, there are only 110 guards to deal with 4,000 inmates, while the jail has a capacity of 2,500.
In a recent case, Sahil and Abhishek, two men accused of hacking a 15-year-old boy to death in the emergency ward of Ludhiana civil hospital, were assaulted by a group of inmates soon after they were sent to jail. They were rushed to civil hospital for treatment. Citing security issues, they have been referred to Rajindra Hospital, Patiala, as the police suspect their rivals could assault them at the hospital.
The Division Number 7 police have lodged an FIR against Gurdeep, Sabi and Jarnail Singh, while three of their accomplices are yet to be identified.
Shivraj SIngh, jail superintendent, said they had asked Abhishek and Sahil if any of their rivals are lodged in the jail, but they did not tell them about it.
A big challenge is once again awaiting the jail staff as six suspects in the murder case , who are currently in police custody, will be sent to jail on judicial remand in some time.
Also, Satbir Singh, one of the men accused of providing weapons to shooters involved in the murder case of singer Sidhu Moose Wala was assaulted in the jail on July 9. All the suspects have been shifted to Goindwal Jail.
Former MLA Simarjeet Singh Bains, who is facing rape charges has been shifted to Barnala Jail after his brother and former MLA Balwinder Singh Bains had raised security concerns.
The jail superintendent added that they are on alert and have also prevented many clashes.
Despite repeated attempts jail minister Harjot Singh Bains was not available for comments.