Protests escalate in Kashmir as government's eviction drive gathers pace
Feb 03, 2023 12:39 AM IST
Protests escalated in Kashmir as the Jammu and Kashmir government's eviction drive from state land has gathered pace. While the authorities say that the drive targets influential people only, the people say that not only the rich but many common people are also being targeted.
Uncertainty and protests escalated in Kashmir as the Jammu and Kashmir government's eviction drive from state land has gathered pace. While the authorities say that the drive targets influential people only, the people say that not only the rich but many common people, small-time shopkeepers and business fraternity are also being targeted.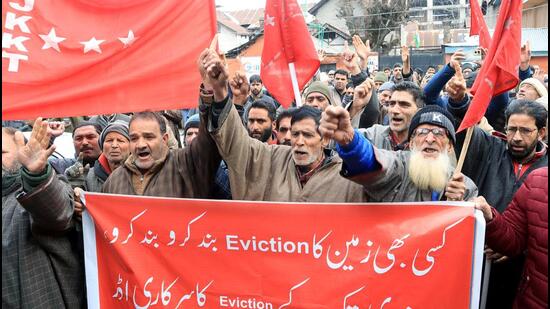 Hurriyat leader's building demolished in Anantnag
A commercial building allegedly constructed by a Hurriyat leader on state land was demolished and the land was taken over by the authorities in south Kashmir's Anantnag district on Thursday.
Officials said that a shopping complex building constructed by Qazi Yasir on some 10 marlas of state land at prime location of Anantnag was bulldozed partly and rest handed over to the municipal authorities for government use.
Tehsildar, Anantnag, Umer Gulzar stated that Yasir had constructed a structure illegally on state land. "In continuation of the anti-encroachment drive against influential people, we recovered some 10 marlas of state land by partly demolishing the structure," Gulzar said.
"The rest of the structure was handed over to municipal council, Anantnag, for proper government use," he said.
On Tuesday, the Jammu and Kashmir administration retrieved state land from the alleged occupation of three prominent political of Anantnag and two business families, including owners of a prominent hotel, in Srinagar. The revenue authorities in south Kashmir's Pahalgam also have taken over a guest house named Green Acker, an illegal structure, located on a prime piece of land at Laripora.
The J&K government has launched a major eviction drive, clearing state land from the encroachments. The drive has caused major resentment among the common people and politicians who say that the drive also is affecting poor and common people possessing small land holdings for living or survival for decades. J&K LG Manoj Sinha had assured that no poor people will be targeted but only those "influential people who used their approach to encroach state land".
Sealed market in heart of city reopened after protests
The authorities allowed shops to open in a prominent market in the heart of summer capital Srinagar on Thursday, a day after sealing of some 25 shops of small-time shopkeepers triggered protests in the city centre.
The Srinagar authorities had sealed some 25 shops in Aftab Market on Wednesday evening, running since 1970s, after a complaint by a private party that the land was illegally occupied. The market mostly comprises of small shops selling small electrical items and mobile accessories.
Shopkeepers said that the SMC had been taking rent from them from decades but a complainant has now stated that it was 'migrant land' following which notices were issued to the small-time shopkeepers a few days back.
The shopkeepers stated that they were legal tenants of the shops who had been paying their rents to the Srinagar Municipal Corporation for decades regularly. They had threatened self-immolation along with their families if the government's "illogical decision" was not revoked.
Tehsildar, south Srinagar, Maeen Azhar Kakroo said that the government has decided to allow the shopkeepers open their shops. "They have been allowed to open on humanitarian grounds," he said.
Farmers protest at Press Enclave against eviction drive
A group of farmers protested in Lal Chowk against the government's land eviction drive. Scores of people under the banner of the Kisaan Tehreek Association held a protest rally starting from Press Enclave. Holding banners, the protesters shouted "our land, your orders won't work".
"We are here to protest this eviction process of the government. This is total injustice that the land on which we are living since ages is being snatched away," said a protester.
KCCI says no transparency in govt's anti-encroachment drive
Jammu and Kashmir's prominent business body, Kashmir Chamber of Commerce and Industry on Thursday alleged chaos and confusion in government land eviction drive.
KCCI president Sheikh Ashiq said that they held a meeting of traders and business community after sealing of shops in Srinagar.
"Earlier we had been assured by the LG that no poor shopkeeper or small business establishments will be touched (in eviction drive) but whatever is happening, there is no transparency. There is chaos and confusion," Ashiq said.
"We appeal to LG administration that we are not here to defend land mafia but we want leniency for shop keepers and business fraternity and see this from humanitarian prism. All the business fraternity is distraught. We want government to sit and issue orders," he said. "We are told that those with revenue documents are still being targeted," he said.
On Wednesday, People's Democratic Party president Mehbooba Mufti lashed out at the Jammu and Kashmir administration's anti-encroachment drive saying it was being used as a weapon like UAPA and PSA to uproot people in the union territory