Punjab: Six members of Jaggu Bhagwanpuria gang arrested with 12 weapons
Jan 02, 2023 04:06 PM IST
Accused were operating weapon and drugs smuggling racket in border state, DGP assures of stern action
Six members of the Jaggu Bhagwanpuria gang involved in smuggling weapons and drugs were arrested with 12 weapons and 50 cartridges in Rupnagar district of Punjab, police said on Monday.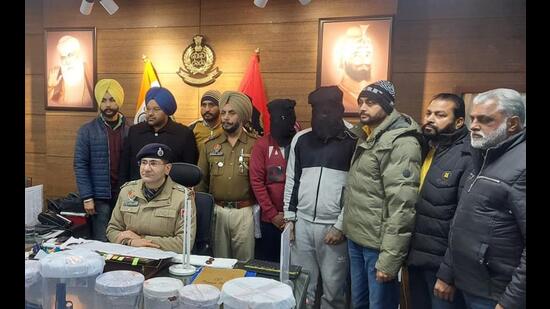 Also read: Even after 7 months, police failed to catch real killers, says Moose Wala's mother
Jagdeep Singh, alias Jaggu Bhagwanpuria, is an aide of jailed gangster Lawrence Bishnoi, the main accused in Punjabi singer Sidhu Moose Wala's murder last May.
Addressing a press conference, Rupnagar senior superintendent of police (SSP) Vivek Sheel Soni said that the six accused, who were running a racket of smuggling arms and drugs on a large scale, were planning to carry out a strike with the weapons seized.
On December 15, a team of the crime investigating agency (CIA), Rupnagar, arrested four accused and recovered four pistols and 20 cartridges. To ascertain the link of the illegal weapons seized, the CIA team took one of the accused, Arshdeep Singh, alias Fouji, from Amritsar jail on production warrant.
Another accused who remained undercover by disguising his name as 777, later identified as Varinderpal Singh, Vicky, was arrested, Soni said, adding that his interrogation led to the recovery of eight more pistols and 30 cartridges.
Punjab director general of police Gaurav Yadav said stern action will be taken against all those involved in running illegal weapon networks.