Punjab VB arrests trio from Nabha for extorting
₹

1.5 lakh from registry clerk

Jan 09, 2023 06:07 PM IST
Property agent, his two accomplices were blackmailing govt official; Vigilance Bureau team laid trap and caught accused accepting second instalment of extortion amount
The Punjab Vigilance Bureau (VB) has arrested three residents of Nabha for blackmailing a government official with the motive of extorting ₹1.5 lakh.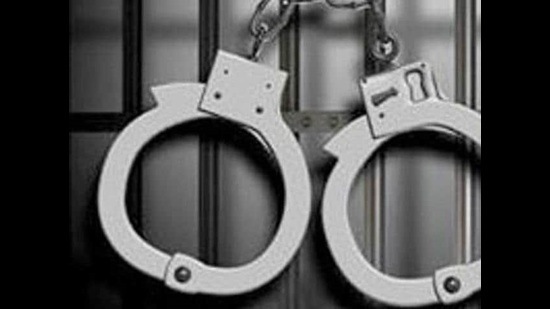 A VB spokesperson said in Patiala on Monday that property agent Umardeen, his accomplice Saleem and a reporter of private channel Rupinder Kumar, alias Dimple, all residents of Nabha, were arrested on the complaint of registry clerk, Nabha tehsil, Rupinder Singh, a resident of Patiala.
The complainant accused Umardeen and his accomplices of blackmailing him and demanding ₹5 lakh for not lodging a false complaint with the VB and sharing a misleading video of him accepting ₹500 on social media. The complainant clarified that he had not received any bribe during the registry in which Umardeen was witness but was taking back ₹500 in lieu of exchange of notes handed over to a person.
The accused shot the video with his mobile phone with the intention of extorting money from him. The complainant claimed that Umardeen had already taken ₹50,000 from him as a first instalment and the deal was struck for ₹2.5 lakh.
After probing the complaint, a VB flying squad team laid a trap and caught Umardeen accepting ₹1.5 lakh from the complainant as a second instalment of the deal in the presence of two witnesses. The VB team also recovered ₹40,000 of the ₹50,000 he had taken earlier from the complainant as the first instalment. Subsequently, the other co-accused Saleem and Rupinder Kumar were arrested.
A case was registered under Sections 419, 420, 384, 120-B of IPC and Section 8 of Prevention of Corruption Act at the VB police station in Mohali on Sunday.