Screening of BBC documentary on PM Modi stopped at Panjab University
Jan 25, 2023 09:38 PM IST
Chandigarh unit of National Students Union of India (NSUI) screened, for a brief time, the controversial BBC documentary on Prime Minister Narendra Modi. before being stopped by security staff
High drama ensued at the Student Centre (Stu-C) of Panjab University (PU) on Wednesday after the Chandigarh unit of National Students Union of India (NSUI) screened, for some time, the controversial BBC documentary on Prime Minister Narendra Modi.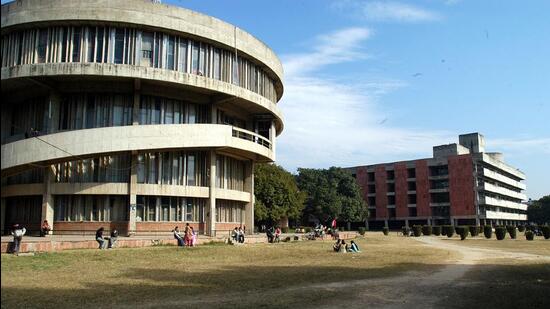 After some part of the documentary was screened, the varsity authorities stopped the NSUI members from continuing it.
The members said they were told that they have not taken any permission for screening the documentary at Stu-C.
The members said they resisted, but they were stopped from continuing the screening.
The NSUI had set up a portable screen at the Student Centre to display the documentary.
The development comes a day after massive chaos and violence was witnessed at Jawaharlal Nehru University (JNU) campus over the screening of the BBC documentary. High drama was also reported at Jamia Millia Islamia on Wednesday.
Newly appointed president of NSUI Chandigarh, Sachin Galav, who is also a PU student said, "We started the screening around 5pm and were stopped by the authorities at 5.30 pm. We were told by the security officials that we do not have permission for screening it. Our aim was to make students aware of the Gujarat riots in 2002," he said.
"University students should be allowed to watch the documentary and come to their own conclusions," said Anmol Warring, who is the president of NSUI, PU.
No screening without permission
PU's chief university security (CUS), Vikram Singh, said, "They tried to screen the documentary without permission. I was informed by a security guard and we reached the spot. Permission from dean student welfare (DSW) is required for any kind of display at the Student Centre (Stu-C). We asked them but they had not received any permission for the screening."
The Modi government has imposed a massive crackdown on the documentary, which it dubs as a 'propaganda piece' and a 'malicious campaign'.