Shorter route to Chandigarh airport: CHIAL on board with admn's proposal, IAF's nod needed next
Jul 26, 2022 03:09 AM IST
The Chandigarh administration is planning a new road from the T-point intersection of Vikas Marg (coming from Sector-43 ISBT) and Purv Marg (coming from Tribune Chowk)
The shorter route from the city to the Chandigarh International Airport got closer to reality on Monday after the Chandigarh International Airport Limited (CHIAL) came on board with the two options proposed by the UT administration.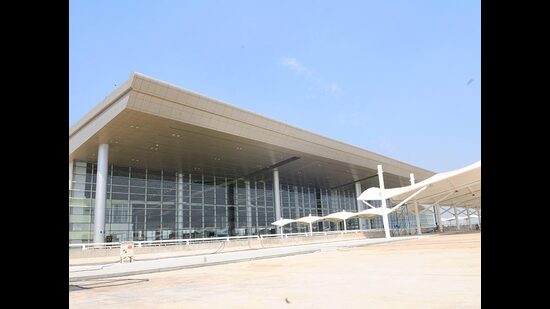 After a meeting of the UT officials, Punjab, Haryana, CHIAL and Indian Air Force (IAF) on Monday, UT adviser Dharam Pal said, "CHIAL has agreed with the two options on the table for a shorter route from Chandigarh to the international airport. Punjab didn't give its comment on the issue on Monday. Next, we will be submitting the two route options on the IAF portal for its approval."
The administration is planning a shorter route from near Sector 48. The new road will start from the T-point intersection of Vikas Marg (coming from Sector-43 ISBT) and Purv Marg (coming from Tribune Chowk).
For the road to proceed further from this junction, the administration has developed two options – one comprises an underpass, while the other features a road running parallel to the airport boundary wall.
The administration is favouring the underpass option, as it is straighter and shorter, which will save more travel time.
The current distance from this intersection to the airport is 14 km after traversing through Mohali. The shorter route will reduce this to 3 to 5 km. The project will require acquisition of land in both Punjab and Chandigarh.
The administration's original proposal to construct a tunnel for a shorter route to the airport was junked during the Northern Zonal Council meeting in September 2019. The administration was pitching for Centre's help and contributions from Haryana and Punjab to construct the ₹1,200-crore underground tunnel.
In May this year, the Punjab and Haryana high court had issued directions to hold a joint meeting of all stakeholders under the chairmanship of the UT adviser and finalise the shorter route.
The directions were issued after the administration submitted an affidavit, stating that they had proposed three routes and later shortlisted two. The court had sought fresh status reports on different infrastructure projects related to the airport from all stakeholders.
The directions had come on a 2015 public interest litigation (PIL) by Mohali Industries Association, alleging lack of facilities at the airport despite an expenditure of ₹1,400 crore.