Unlicensed firecracker sales rule the roost in Punjab, 'green cracker' shoppers disappointed
, Patiala/amritsar/jalandhar
Vishal Rambani/Anil Sharma
Oct 23, 2022 10:57 PM IST
The shops, stalls selling crackers without following the guidelines could be seen in most of the localities including those markets which are not accessible to the fire tenders.
Even though Punjab government has banned the sale of non-green crackers, but the sale of these more pollution causing crackers is going on with full impunity across Punjab. Most of the firecrackers in the Punjab markets did not have quick response (QR) code or license details on the packets or boxes, as they are locally and illegally manufactured.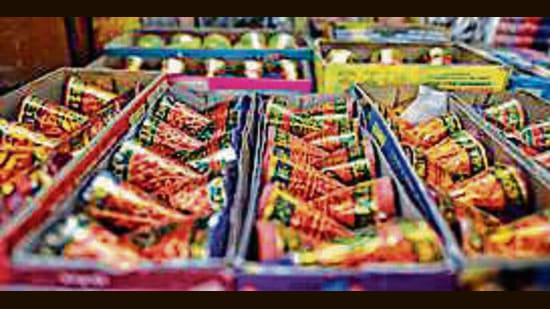 Like other states, Punjab has banned the sale and use of traditional crackers, a source of noise and air pollution, and has allowed only environment-friendly or green crackers that as per experts produce 30% less pollution.
The Punjab Science and Technology Department had recently allowed sale of only green crackers, besides fixing deadlines for festivities. Punjab government has allowed use of green crackers for two hours on Diwali from 8pm to 10pm.
Locally-made firecrackers are ruling the roost in the market, as the district administrations have no measure in place to check the sale of non-green crackers. Besides, administrations had issued the licenses for sale of crackers earlier this week itself, stating that no one can bring polluting crackers from far-off places as such crackers are mostly made in southern states. "If government wants to sell green crackers, they should issue cracker license almost two months before Diwali, and then only license holder can invest and bring green crackers. This is only way to check illegal sale of crackers," said Yogesh, who is a license holder to sell crackers in Patiala.
Environmentally conscious festive shoppers are disappointed, as they are unable to find green crackers in the markets so easily.
"I have tried to purchase green crackers, but mostly I found that locally-made crackers are available in market," said Nakul Bansal, a shopper.
Punjab Pollution Control Board Secretary Krunesh Garg said that the Punjab government has already issued guidelines, and directed the administrations to ensure sale of only green crackers. "It's duty of district administration of respective districts to ensure sale of green crackers only," he said.
Unlicensed firecrackers sold in Amritsar's congested areas :
The sale of firecrackers, including brisk buying and selling of these goods in crowded areas, has been going on unchecked in the holy city, despite the commissionerate police's strict order banning their sale without license.
Shops and stalls selling huge number of crackers without following the guidelines can be seen in all most all localities and markets. Some congested markets which are not accessible to fire tenders, in case of any fire emergency, are also dotted with crackers' big and small shops.
The city police have already designated some particular locations, including in the New Amritsar area, for the sale of crackers, while having issued specific guidelines. However, the crackers can be seen sold even in streets and busy markets located near some of the religious places. On Friday, deputy commissioner of police (DCP-investigation) Parminder Singh Bhandal had issued a ban order regarding the sale of crackers, under Sections 144 of the CrPC.
"Some people sell crackers on the occasion of Diwali in crowded and residential areas without permission. Due to this, sometimes, the incident of fire breaks out which is fatal. Thus, a ban has been imposed for selling crackers without procuring license till January 20, 2023," the order reads. "The firecrackers can be seen sold unabated in almost every market of Amritsar. This is happening even in presence of police teams in some areas. The ban order issued by the police is mere eyewash. Strict action should be taken against those who are selling crackers in busy markets without giving two hoots to the public security," said Narinder Singh of Amritsar.
Deputy commissioner of police (DCP-Law and Order), Parminder Singh Bhandal said their teams have been regularly checking the illegal sale of crackers. "We have seized some crackers which were being sold without license. Noone will be allowed to sell crackers without permission," he added.
Sale of unlicensed firecrackers goes unchecked in Jalandhar
The sale of firecrackers without a valid license went unchecked in the various markets of Jalandhar city on Sunday ahead of Diwali, despite a ban imposed by the district administration. It has been witnessed in the various markets where the shopkeepers set up stalls of fire crackers even in the crowded places putting the surroundings on the risk where police have turned blind eye towards it. A senior district administration officer said that police teams have been checking the shops and also imposing the fines on whosever was found selling firecrackers without a valid license. He said fire tenders are on standby incase of emergency during Diwali. Jalandhar deputy commissioner of police, Jagmohan Singh said that police teams were regularly checking illegal sale of crackers and will seize crackers of shopkeepers who were selling without valid license.
What are green crackers?
Green crackers are safe water releaser (SWAS), safe minimal aluminium (SAFAL) and safe thermite cracker (STAR) for reduced emission of light and sound with 30% reduction in particulate matter using potassium nitrate (KNO3) as oxidant. Green crackers don't contain dangerous substances like barium nitrate, absorb dust, and significantly cut emissions. Toxic metals in traditional crackers are replaced with less hazardous compounds.
( With inputs from Gagandeep Singh in Jalandhar)