Flats in Delhi: All you need to know about DDA's new housing scheme
Jul 03, 2017 01:26 PM IST
DDA is launching a housing scheme on June 30 with 13,000 flats in Delhi. Most of these are flats surrendered by allottees after the previous schemes because they lacked basic amenities.
After much delay, the Delhi Development Authority launched its housing scheme on Friday. There are 13,000 flats on offer which will be allotted through a draw of lots.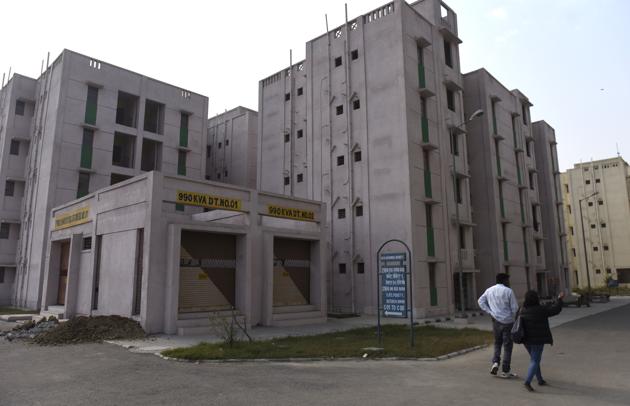 Registration forms will be available at different banks and online. Interested buyers can submit their application to DDA by August 9. However, DDA is introducing strict rules for refund of registration fee in case of withdrawal from the scheme. The authority says it will deter people from applying if they are not serious about buying a flat.
Read: Here is how you can apply in DDA Housing Scheme 2017
DDA assures that basic facilities such as roads, streetlighting, water supply have finally been provided at these flats. Read on to know more about the scheme.
HOUSING BONANZA
Here's what the DDA is offering in different parts of Delhi under the scheme
13,148 – Total number of flats
11,671 – LIG/one-bedroom flat
79 – HIG
398 – MIG
563 – EHS (Expandable)
437 - Janta
Flats are spread across: Narela, Rohini, Pitampura, Loknayakpuram, Dwarka, Bindapur, Paschim Vihar, Jahangirpuri, Mukherjee Nagar, Dilshad Garden, Sukhdev Vihar, Jasola, Sarita Vihar
Cost of Flats
Type Of Flats Area of Flats Approximate Price
LIG 28.34 to 52.63 sqm between Rs 14.95 lakh and Rs 28.54 lakh
EHS 24.19 to 77.57 sqm between Rs 11.76 lakh and Rs 77.57 lakh
JANTA 18.85 to 30.45 sqm Rs 6.68 lakh to Rs 15.15 lakh
MIG 64.04 to 109.88 sqm Rs 30.23 lakh to Rs Rs 70.07 lakh
HIG 77.57 to 142.46 sqm Rs 41.62 lakh to Rs 1.40 crore
WHAT YOU NEED TO KNOW
1. The scheme will be announced on June 30 and buyers can submit the form by August 9, the scrutiny of which would take another month
2. Most of these flats were surrendered because the applicants found them too small or the neighbourhood was underdeveloped.
3. Most flats are located in Rohini, Dwarka, Narela, Vasant Kunj and Jasola. People are free to visit the sites.
3. If an applicant wishes to withdraw before the date of the draw, full registration fee will be refunded. But if an applicant withdraws after the date of the draw but before the issue of demand and allotment letter, 25 per cent of the amount will be forfeited. If the applicant withdraws within 90 days from the date of issue of demand letter, only 50 per cent of the fee will be returned. After the 91st day, applicant will not get back any amount.
4. There will be no restriction on when people can sell these flats, the DDA said refuting reports that a five-year sale embargo may be included in the deals
5. Buyers are likely to get possession of the flats in October-November.
6. DDA has tied up with 10 banks for the sale of application forms and scheme-related transactions. These banks are:
Axis Bank
Bank of Baroda
Canara Bank
Central Bank
HDFC
ICICI
IDBI
Kotak Mahindra
SBI
Yes Bank
FAQs
How much does the brochure cost? Cost of the brochure for last scheme was Rs 150. If you download it online, you will have to pay the amount at the time of submission.
Do I need ID proof? All you need is a photocopy of your PAN card.
Am I eligible? Any Indian citizen, 18 years of age and above can apply. However, you are not eligible to apply if you already own a flat or plot in your or your spouse/child's name in Delhi.
How many times can I apply? A person can only apply once each year.
If I'm applying can my husband/wife also apply? Yes, both of you can apply separately. However, if both of you are allotted flats, only one can be retained.
"Exciting news! Hindustan Times is now on WhatsApp Channels
Subscribe today by clicking the link and stay updated with the latest news!"
Click here!