AI case accused held, sent to 14-day judicial custody
Hemani Bhandari and Deepankar Malviya
Jan 07, 2023 11:55 PM IST
A Mumbai resident, the accused Shankar Mishra was on the run since Wednesday after he was booked by the Delhi Police
The Delhi Police late on Friday arrested from Bengaluru the 35-year-old man who allegedly urinated on a co-passenger in a drunken stupor on an Air India (AI) flight in November and brought him to the Capital on Saturday, officials said. He was produced before a Delhi court, which sent him to 14-day judicial custody.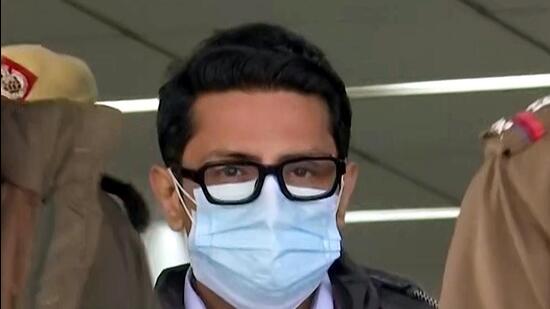 A Mumbai resident, the accused Shankar Mishra was on the run since Wednesday after he was booked by the Delhi Police under the Indian Penal Code's (IPC) Section 509 (word, gesture or act intended to insult the modesty of a woman), 510 (misconduct in public by a drunken person), 294 (obscene act in any public place) and 354 (Molestation) and 23 of the Aircraft Act. He was fired by US multinational Wells Fargo on Friday over the "disturbing allegations".
Stating that Mishra used to work from Bengaluru, deputy commissioner of police (Indira Gandhi International Airport) Ravi Singh said: "He stays in an apartment on Sarjapur Road in Bengaluru but he wasn't there when our team reached the house. He was residing in a homestay about 20kms away from the apartment."
A senior police officer aware of the developments said Mishra left his apartment when he got to know that an FIR has been registered against him.
"When the FIR was registered on January 4, he was in Bengaluru but left his apartment. He was using cabs to travel within the city. When the team went to his apartment, we found his mother and sister. They said they were not aware where he was," the officer said on condition of anonymity.
The police then gathered information about the places where Mishra could be hiding and started conducting raids, the officer quoted above said. "We found out that he had visited this homestay once in the recent past and we found him there," the officer added.
During preliminary interrogation, Mishra allegedly told the police that he was evading arrest to buy time and apply for anticipatory bail. "When we asked him about the incident, he kept changing his statement about how the events unfolded. However, he said that he had apologised to the victim and tried to compensate for her loss," another officer part of the investigation said on condition of anonymity.
The Delhi Police sought his custody for three days, stating that they needed to record the statements of the crew, pilots, and a few co-passengers of the Air India New York-Delhi flight in which the incident took place.
Appearing for Mishra, advocate Manu Sharma opposed the police plea, stating: "A lot of noise has been made but when we look at the offences made out in the First Information Report (FIR), except for one, all other are bailable."
Metropolitan Magistrate Anamika noted that Mishra's custody was not needed for recording the statements of other witnesses, including the cabin crew and co-passengers, and sent him to 14-day judicial custody.
Mishra's counsel also filed a bail plea, which the court said will be taken on January 11.