Delhi breathes toxic January air, pollution on cusp of 'severe'
Jan 07, 2023 12:09 AM IST
The grim forecasts prompted the Commission for Air Quality Management (CAQM) hold an emergency meeting and subsequently impose measures under Stage III of the Graded Response Action Plan (Grap), under which all private construction activities are banned in NCR, among other curbs
Delhi's pollution levels on Friday spiked to an Air Quality Index (AQI) reading of 400 (very poor), the daily 4pm national bulletin released by the Central Pollution Control Board (CPCB) stated, with forecasts showing that the air quality is likely to deteriorate further in the coming days.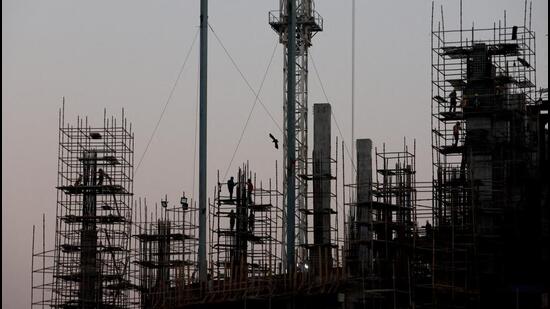 The grim forecasts prompted the Commission for Air Quality Management (CAQM) hold an emergency meeting and subsequently impose measures under Stage III of the Graded Response Action Plan (Grap), under which all private construction activities are banned in NCR, among other curbs.
"While assessing the overall air quality parameters, the sub-Committee noted that the air quality has suddenly and unexpectedly deteriorated, owing to dense fog without much sunlight and very low temperatures, coupled with calm winds and stable atmospheric conditions over last few hours. Further, there is an increasing trend in the overall AQI of Delhi in the coming days as per the Air Quality forecast of IMD and IITM. Therefore, it is considered necessary to re-impose Stage-III of GRAP with immediate effect in the entire NCR in an effort to steer clear of further deterioration of air quality in the region," the committee said in a statement.
The CPCB classifies an AQI between 0-50 as 'good', between 51 and 100 as 'satisfactory', between 101 and 200 as 'moderate', between 201 and 300 as 'poor', between 301 and 400 as 'very poor' and over 400 as 'severe'.
Friday's AQI reading for Delhi was a sharp deterioration from Thursday, when the reading was 340 (very poor), an improvement on Wednesday's AQI of 343 (very poor).
CAQM had last imposed Stage III measures on December 30, lifting them only on Wednesday.
Stage III of Grap says states also have the option to enforce a ban on BS-III petrol and BS-IV diesel vehicles, but Delhi's transport department said a decision on imposing such a ban was yet to be taken. "A decision on whether to impose these restrictions will be decided soon. The CAQM order has come in the evening and an immediate ban on such vehicles will not be imposed," a government official said.
Other restrictions under Stage III of Grap include the closure of all brick kilns and hot mix plants not operating on clean fuels, closure of all stone crushers in NCR and a ban on mining and its associated activities, CAQM's order on Friday said.
However, under Stage III, all projects related to rail services or rail operations, metro projects, airport projects, ISBT projects, projects related to national security or defence, projects of national importance and healthcare facilities are exempted. Linear projects such as highways, roads, flyovers, over bridges, power transmission and pipeline laying is also allowed, in addition to sanitation projects.
Delhi's AQI had last touched the 'severe' zone on December 19. However, the CAQM had decided against invoking Stage III measures on that day as forecasts had showed that Delhi's pollution levels would improve the very next day.