Kejriwal opens School of Specialised Exellence in Janakpuri
Feb 02, 2023 11:29 PM IST
SoSEs offer specialised education to students of classes 9 to 12 in four domains — science, technology, engineering, and mathematics (STEM), humanities, performing and visual arts, and high-tech 21st-century skills
Delhi chief minister Arvind Kejriwal on Thursday inaugurated a new School of Specialised Excellence (SoSE) in DESU Colony in Janakpuri. The school will admit students from this year with 120 students each in Class 9 in humanities and high-end 21st-century skills this year..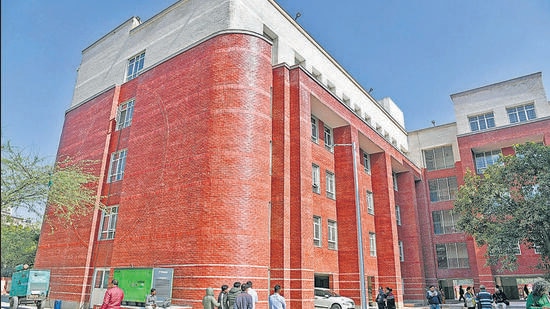 SoSEs offer specialised education to students of classes 9 to 12 in four domains — science, technology, engineering, and mathematics (STEM), humanities, performing and visual arts, and high-tech 21st-century skills which include subjects such as robotics and computer programming.
Kejriwal said that the special schools were giving children "a chance to shine" in the fields of engineering, medical, information technology, and artificial intelligence. Currently, the Delhi government runs 31 SoSEs, and the government plans to set up 13 more this year.
The CM said facilities offered in these schools were better than private schools, and while earlier parents were wary of getting their children admitted in government schools, the Delhi government has "managed to turn the tide".
The Janakpuri SoSE has come up at the site of a dilapidated old school building that was handed over to the directorate of education by DESU (the erstwhile Delhi Electric Supply Undertaking). Delhi government's Public Works Department (PWD) started construction work in May 2021, after demolishing the old structure. Built on an area of 8,600 square metres, the school building has 45 classrooms, eight labs, a library, a multi-purpose hall, 13 officials and staff rooms, 26 toilets, and two elevators. The four storey structure also has an auditorium with a seating capacity of 250.
Kejriwal said, "The idea behind SoSE initiative was the belief that every child has the capacity to excel in different fields. We believe that god has given different and specialised skills to different children. One child may be skilled in mathematics or chemistry, and another may have the capacity to excel in sports. So, to develop the inherent quality in each child, we are building various types of specialised schools across Delhi."
He added that 96,000 applications have been received for admission on 4,400 seats in various schools of excellence. "Even IIT and medical courses don't get such a response," said Kejriwal.
Deputy chief minister Manish Sisodia, who was also present on the occasion, said that the government faced several challenges in freeing the school from the land mafia. Sisodia added that around 1,600 students will get admission in the school.
"Dr BR Ambedkar School of Specialised Excellence will provide children world-class education in STEM, Humanities, and 21st century high-end skills. Under the 21st century high-end skills, students will be taught subjects such as robotics and computer programming," said Sisodia.