Mercury dips to 1.8°C in parts of Delhi as cold keeps grip
Jan 07, 2023 04:33 AM IST
The peak power demand of 5,526MW on Friday was the first time Delhi has crossed the 5,500MW-threshold in the winters, and the third day in a row that the city's peak power demand crossed the 5,000MW-mark
Delhi continued to shiver on Friday as the Capital recorded a minimum temperature of 4 degrees Celsius (°C) -- three degrees below the normal for this time of the year -- leading to the city reporting its highest ever peak power demand for winter, clocking 5,526MW at 10.58 am, according to data from the State Load Dispatch Centre (SLDC).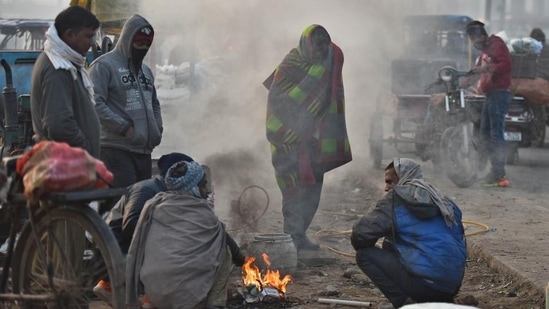 Friday's reading of 4°C at Safdarjung, which is representational of Delhi's weather, was one degree higher than the 3°C recorded a day before, India Meteorological Department (IMD) data showed. However, parts of Delhi plunged to lows for the season and recorded both "coldwave" and "cold day" conditions -- the minimum at southwest Delhi's Ayanagar was logged as 1.8°C, while it was 3.3°C at the Ridge station.
The maximum temperature was recorded at 16.6°C -- three degrees below normal -- and was as low as 11.9°C at Jafarpur.
IMD declares a 'coldwave' in a region when the minimum temperature is 4.5 degrees or more below the normal mark, or when it drops to 4°C or lower. Safdarjung (4°C), Lodhi road (3.8°C), Ridge (3.3°C) and Ayanagar (1.8°C) all met this criteria on Friday.
Meanwhile, the met department classifies a 'cold day' as when the maximum temperature is 4.5 degrees or more below normal, while the minimum is below 10°C. At Palam (13.4°C), it was six degrees below normal, while it was 8 degrees below normal at Jafarpur (11.9°C), IMD data showed.
IMD forecasts show both coldwave and cold day conditions are likely to abate in the region, with the minimum likely to rise to 5°C at Safdarjung, while the maximum will hover around 18°C.
"A fresh western disturbance will begin to influence northern India on January 7 and 8, which will lead to a drop in wind speed and the wind direction will also change. Both maximum and minimum will rise by 2-3 degrees," said a met official.
The peak power demand of 5,526MW on Friday was the first time Delhi has crossed the 5,500MW-threshold in the winters, and the third day in a row that the city's peak power demand crossed the 5,000MW-mark. The previous high for power demand in Delhi was 5,343MW, on January 1, 2020, SLDC data showed.
In winters, discoms say, around 50% of the total heating load is largely down to the use of heaters or geysers.
A BSES official said the backbone of the discom's power-supply arrangements during the winter-months includes long-term agreements from power plants, including hydro-run plants, and Delhi-based gas fuelled stations.
"Additionally, BSES is also receiving 840MW of solar power from Solar Energy Corporation of India Limited (SECI), 439 MW of wind power and around 25 MW from Waste-to Energy. We are also being helped by over 127 MW of roof-top solar power installed on roof-tops in South, West, East and Central Delhi," the official said.
Power discoms had earlier been forecasting a peak power demand of over 5,500 MW this winter, based on power consumption trends.
BSES said it was utilising advanced forecasting models to prepare for increased power consumption. This, it said, was being done based on factors like temperatures, rainfall, cloud coverage, wind speed, wind direction and humidity.
"Even holidays and random disturbances have an impact on the power demand. To meet Friday's power challenges, BSES used a mix of advanced statistical forecasting models using complex algorithms, combined with state-of-the-art weather forecasting solutions, including Artificial Intelligence and machine learning," the official said.
Tata Power Delhi Distribution (Tata Power-DDL) also said it was able to successfully meet the record peak power demand of 1,720 MW within their jurisdiction in north Delhi without any network constraint or power outages.