MP Chambers in Delhi to be built for
₹

1,210 crore as CPWD slashes cost

Jan 07, 2023 12:09 AM IST
The total plinth area of the proposed building is now approximately 98,000sqm (ground plus eight and one basement), a reduction from the original 118,000sqm (ground plus 10 and three basement levels)
New Delhi: The Central Public Works Department (CPWD) has modified the size of the proposed MP Chambers building, which will be constructed near the new Parliament building as part of the Central Vista redevelopment project, and invited fresh pre-qualification bids for the project, officials said Friday.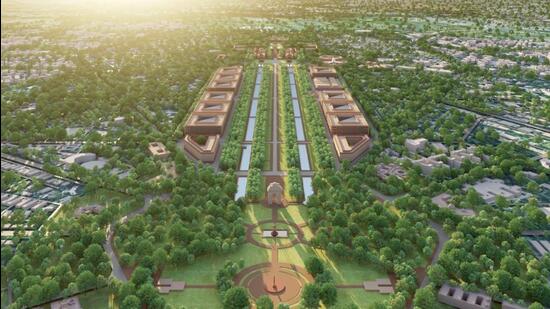 According to officials, the pre-qualification bid will be opened on January 27. The first bid was invited in November last year. They said the cost of the project has been reduced from ₹1,435 crore to ₹1,210 crore. The total plinth area of the proposed building is now approximately 98,000sqm (ground plus eight and one basement), a reduction from the original 118,000sqm (ground plus 10 and three basement levels). In the first bid, two 10-storeyed buildings and one three-storeyed building were proposed. According to the bid document, the building will be constructed within 30 months from the date the work is awarded.
"The proposed work will be designed to improve potency and functioning through carefully planned formation of all MP offices with supporting facilities," the tender document said.
The proposed buildings will be built where the Transport Bhawan and the Shram Shakti Bhawan are currently located. The ministries located in these buildings will start temporarily shift to other government buildings in central Delhi from January or the first week of February, according to central government officials. These offices will finally move to the Common Central Secretariat buildings, which are being constructed as part of the Central Vista redevelopment project.
Shram Shakti and Transport bhawans, which are constructed on two adjacent plots measuring a total of 5.5 acres, will be demolished for the construction of MP Chambers that will provide Members of Parliament with office space. "The building is located close to the new Parliament building. It will have office space for over 800 MPs. At present, MPs don't have offices in the existing Parliament building," an official said.
Tourism and skill development and entrepreneurship ministries will shift to the 12 blocks at the Jodhpur officers' hostel. The ministries of ports, shipping and waterways, labour and employment, and power will shift to the newly constructed office complex at Kasturba Gandhi Marg, while the ministry of road transport and highways will move to the Government of India press building at Minto Road, said a senior ministry official.
The office complex at KG Marg has been constructed to provide government offices with temporary space till the time the 10 common central secretariat buildings are ready.