World Wetlands Day: Experts call for revival of old water bodies
Feb 02, 2023 11:38 PM IST
Experts and various NGOs convened at different locations across the Capital on Thursday to celebrate the theme of "wetland restoration" to mark the date of adoption of the Ramsar Convention
On the occasion of World Wetlands Day on Thursday, experts said the conservation and protection of Delhi's existing wetlands, particularly the revival of old, dry water bodies, would not only boost the Capital's ecology, but also provide it with an economic boost.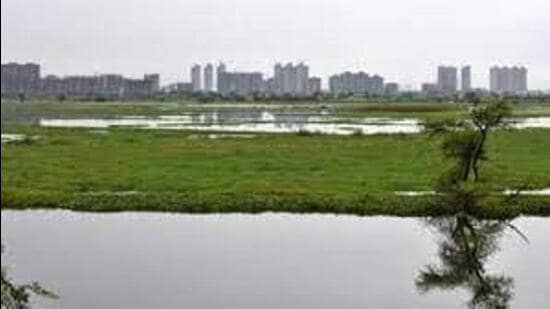 Experts and various NGOs convened at different locations across the Capital on Thursday to celebrate the theme of "wetland restoration" to mark the date of adoption of the Ramsar Convention, an international treaty established in 1971 to provide the framework for international collaboration and national action for the conservation and wise use of wetlands. World Wetlands Day is celebrated every year on February 2.
According to Dr. Faiyaz A Khudsar, a biodiversity expert and part of the Biodiversity Parks programme of Delhi, wetlands worldwide are recognised to have a tremendous amount of economic value too, estimated at $47 trillion per year. He said 15 wetlands have so far been revived and restored through conservation efforts across Delhi's seven biodiversity parks under the jurisdiction of Delhi Development Authority (DDA), and added that not only had the groundwater level increased at these locations, but it was also attracting wildlife and birds. "Wetlands play a key environmental role--they recharge groundwater, sequester carbon dioxide and ameliorate the environment quality as a whole, supporting wildlife in the area. These wetlands become important nesting and resting sights for both local and migratory birds too," said Khudsar at an event at the Yamuna Biodiversity Park (YBP) on Thursday, which was attended by DDA officials and students from Jamia Hamdard, the department of Business Economics, Indraprastha College, Aditi Mahavidyalaya, Dyal Singh Evening College, Hansraj College and Sri Guru Gobind Singh College of Commerce.
CR Babu, head of the Centre for Environmental Management of Degraded Ecosystems (CEMDE), said conservation efforts on the ground needed to be matched with legal protection of wetlands and water bodies, adding that at the Yamuna Biodiversity Park, five water bodies had been created, while four each had been restored at the Aravalli and Kalindi Biodiversity Parks. "The Kalindi Biodiversity Park is the latest of these parks to house restored water bodies, but is already seeing thousands of migratory and local birds now. These include birds such as the northern shoveller, gadwalls, ferruginous pochard, the marsh harrier and avocets, among others," he said.
Professor TR Rao, an ecologist, said lab innovations can also go a log way to conserve existing wetlands, a number of which are overrun by water hyacinths (Eichhornia). "They exist only in water bodies where organic matter is high, which generally comprises sewage or waste. These water hyacinth clog water bodies and reduce the dissolved oxygen (DO) level considerably. Simple science-based solutions to tackle these can help protect existing wetlands to a large extent," he said.
Amitabh Kant, former CEO of Niti Aayog, who was speaking at an event organised by Wetlands International South Asia, meanwhile, said wetlands were life-support systems and there were serious implications of worsening wetland health on India's development. "India's leadership efforts have championed wetland conservation in its 75th year of India's independence, with wetlands also being considered important societal assets now. There is a need to further step up action to protect our existing wetlands and conserve them," he said.